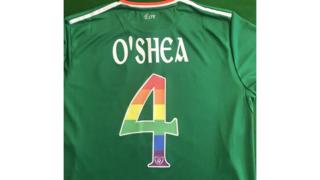 Football Assocation of Ireland
The Republic of Ireland national football team will play the United States on Saturday - but neither team will be wearing their normal kit.
Instead they'll both be wearing tops with a rainbow flag incorporated into the design.
It's to mark the beginning of Pride month.
The Football Association of Ireland have now revealed on Twitter what the new kit looks like.
The numbers on the back of the player's shirts are filled with the colours of the rainbow flag instead of the traditional white.
Every year, during the month of June, the LGBT community celebrates in a number of different ways.
Across the globe, various events are held as a way of recognising the influence LGBT people have had around the world.
Pride month is held in June because that was the month when the Stonewall Riots took place, back in 1969.
READ MORE: History of gay rights in the UK
Martin O'Neill's Ireland side will take on the United States in a friendly at their Lansdowne Road ground in Dublin on Saturday 2 June.
Irish football's governing body said wearing the special kits shows their support for the LGBT movement, and forms part of UEFA's 'Equal Game' initiative.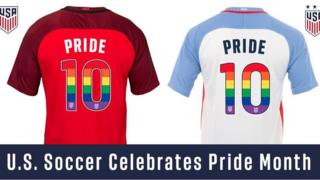 US Soccer MNT
US Soccer also announced that their squad would be wearing jerseys in honor of LGBTQ Pride Month during their June friendlies.
The US men's and women's national teams did the same thing last year, but the move wasn't popular with everyone.
One of the US female players Jaelene Hinkle this week revealed that she turned down the chance to play for U.S. Women's National Team last June because she didn't want to wear a jersey supporting the LGBTQ community.
Hinkle is a devout Christian, and said she felt "convicted in my spirit that it wasn't my job to wear this jersey".
She got support by her team mates and club manager for opting out of the matches, but hasn't been selected to play for the US team since making the decision.
This isn't the first time we've seen sports stars wearing rainbow-themed kits though.
In November last year loads of massive stars wore rainbow shoelaces as part of a special campaign in support of LGBT inclusivity, run by LGBT support organisation Stonewall.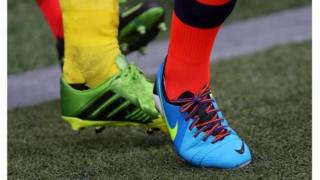 PA