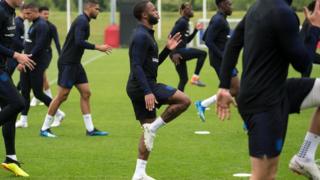 Getty Images
Manchester City and England football star Raheem Sterling has been getting some criticism after a photo was taken of him with a new tattoo of a gun on his leg as he trained with the England squad ahead of the World Cup.
Some anti-gun campaigners have called the tattoo "totally unacceptable" and "sickening" and that it sets a bad example. Some say he shouldn't be allowed to play for England unless he gets it removed.
Other people have defended him and Sterling himself says that those complaining haven't understood what his tattoo means.
On social media he said he would "never touch a gun" and that the image has a "deeper meaning" as his late father was a victim to gun violence in Jamaica, where he was born.

Your Comments:
I am half-half to be honest. I get that he wants to make his feelings clear about his dad but then also he should be aware about how others may feel about this. However it is his decision and he deserves the right to keep it if he wants.
Rory, age 9, Devon.
I think that it doesn't matter where he puts his tattoo as long as everyone knows what it means.
Abdul, 12, West Yorkshire