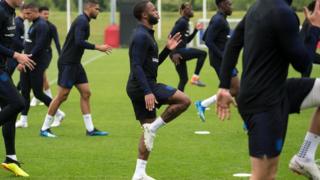 Getty Images
Manchester City and England football star Raheem Sterling has been getting some criticism after a photo was taken of him with a new tattoo of a gun on his leg as he trained with the England squad ahead of the World Cup.
Some anti-gun campaigners have called the tattoo "totally unacceptable" and "sickening" and that it sets a bad example.
Some say he shouldn't be allowed to play for England unless he gets it removed.
Other people have defended him and Sterling himself says that those complaining haven't understood what his tattoo means.
Sterling, who joined City from Liverpool for £49m in July 2015, responded on social media on Monday evening he would "never touch a gun" as his late father was a victim to gun violence in Jamaica, where he was born.
He said that because he shoots with his right foot so it has 'deeper meaning'.