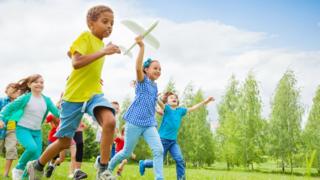 Getty Images
For lots of schools in England and Wales it's half term, which means no school!
Unfortunately there's no summer half term for many schools in Scotland and Northern Ireland - but you do still get the May bank holiday off.
So do you have anything special planned?
Let us know what you're doing with your time off.

What's the weather like where you are? Have you been able to play outside?

Are there any special events to go to?

Are you spending time with friends and family?

Or maybe going on any special trips?
Thank you for your messages. This chat page is now closed.
Over the half term I will be going out to enjoy the summer sunshine and will be eating a lot of Ice-creams
Musa, 13, London
Over the half term I will be going to the park and riding my bike.
Wali, 11, London

You must ask your parent, teacher or guardian for permission before you send us a comment and a photo.
We may show your comment on our website or in our TV bulletins. We'll show your first name and which town you're from - but we won't use your details for anything else.