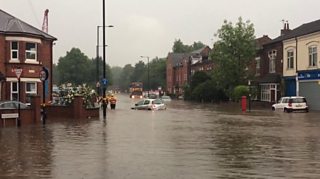 Storms cause heavy flooding
Storms have caused floods across parts of Birmingham, after more than a month's worth of rainfall fell in just one hour on Sunday.
The Environment Agency has issued multiple flood warnings and alerts are in place across the West Midlands.
The Met Office has issued amber weather warnings for rain and thunderstorms in East Anglia, London and the South East and the South West of England, this afternoon.
The South East could also experience the hottest day of the year so far.