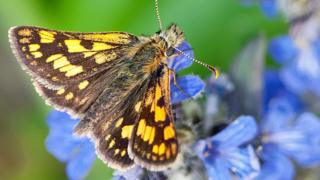 RSPB
Have you ever heard of the chequered skipper butterfly? Probably not!
There are not many of them around. They can still be found in Scotland, but became extinct in England more than 40 years ago.
But now conservationists are bringing them back, releasing 50 of the butterflies at a secret location in Rockingham Forest in Northamptonshire.
These chequered skippers have been brought over from Belgium via the Eurostar across the Channel and transferred to Rockingham where they were placed in cages ahead of their release later.
Butterfly Conservation is the organisation behind the project.
It's hoping the renovated, butterfly friendly site, will help provide the type of conditions that the chequered skipper needs to survive, and said it was an "important milestone for conservation".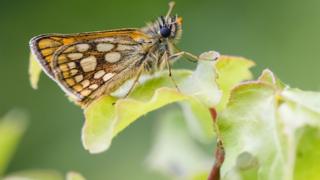 RSPB
The chequered skipper was always scarce but the reason is became extinct was because of changes to the woodland where they lived.
But conservationists have been doing trials over the last 25 years to make sure the conditions are right and they hope that they will flourish.
Fingers crossed!