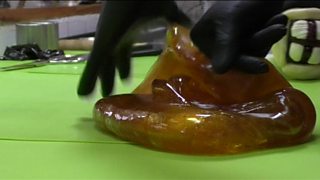 How satisfying is it to watch these sweets being made?
A sweet shop in Poland is preparing special treats for the thousands of World Cup fans expected to visit ahead of the tournament.
To avoid paying high prices for hotels in Russia, people are heading for Gdansk in Poland. It's close to the Russian city of Kaliningrad, one of the World Cup venues.
The sweet shop will offer fans jars of hand-made sweets.
But just take a look at the process - it's addictive!