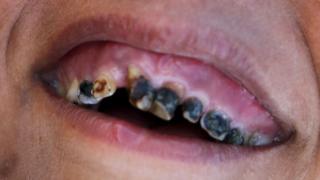 Getty Images
A new survey has found graphic images on sugary drinks bottles could help fight obesity.
An Australian survey of 1,000 people aged 18 to 35, found they were 36% less likely to buy a sugary drink if it showed a picture of rotten or decaying teeth.
A sugar tax on soft drinks has already been introduced in the UK .
The report says that labelling could also play a significant role in tackling obesity.

It won't put me off. Sugary drinks aren't a problem unless you constantly drink them. You need to make healthy foods as cheap and appealing as unhealthy foods.
Abigail, 10
Yes it would put me off drinking them because I don't like the look of the pictures
Eloise, 7
This would definitely put us off fizzy juice because it's disgusting, we wouldn't be able to eat our food properly and lots of people would be put off by us if we had teeth like that
Stenhousemuir Primary School, Falkirk
We read the news about sugary drinks and we think putting pictures of rotten teeth would put us off them.
Class 4ZA at Hovingham Primary School, Leeds
It completely put me off when I saw that picture. In my opinion, it would work.
Blanche, 8
We think it would put us off drinks and sugar forever.
Class 4 Brow Community School, Runcorn.
This chat is now closed. Thank you for all your comments!