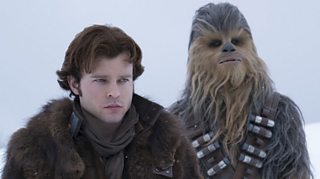 Want to know about the new Star Wars?
Solo: A Star Wars Story is ready to hit cinemas, and the cast have been answering your brilliant questions about the new movie.
Alden Ehrenreich, who plays a young Han Solo, and all the film's other stars took time out to chat to Ayshah.
So who was the funniest cast member? What was the first day of filming like? And which actor got to take home a special prop after finishing the movie?
Watch now to find out!
Solo: A Star Wars Story (12A) is out in UK cinemas on Friday 25 May.