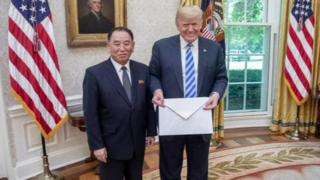 Reuters
The US president Donald Trump has announced that talks between himself and Kim Jong-Un will go ahead.
It comes nine days after President Trump cancelled the summit with the North Korean leader blaming "tremendous anger and open hostility" from North Korea.
But on 2 June the President said the talks will take place in Singapore on 12 June, as originally planned.
So why has President Trump changed his mind?
Well it seems it's all down to a hand-delivered letter the President received from the North Korean leader.
North Korean envoy General Kim Yong-chol brought the letter - which was in an unusually big envelope - to the White House.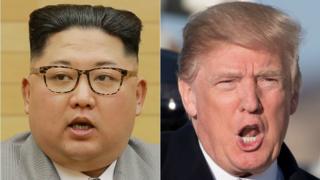 AFP
What did the letter say to make the President change his mind?
Well President Trump told reporters it was a "very interesting" letter - but later admitted that he hadn't yet read it.
He also said the issue of formally ending the Korean War would be on the table in Singapore.
It's a really big deal for these two countries to meet and hold talks because they have argued so much in the past.
Other world leaders have wanted this meeting to happen after lots of rows about nuclear weapons.
Why had President Trump cancelled the meeting?
Back on 25 May Mr Trump announced he was pulling out the talks with North Korean leader in the form of a letter addressed to Mr Kim.
He said it's because of 'tremendous anger' in a recent statement from North Korea and a series of "broken promises" from the North Korean capital Pyongyang.
At that stage President Trump said that he was very much looking forward to meeting him 'some day'.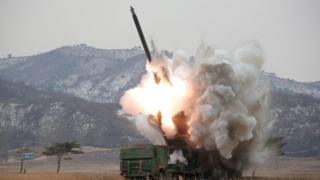 KCNA/AFP/Getty Images
No serving US president has ever sat down for talks with a North Korean leader.
If you want to know more about North Korea and why it's so often in the news, check out our guide.