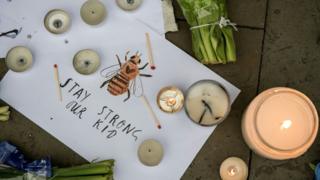 Dick Vincent / AFP
On 22 May 2017, people attending an Ariana Grande concert in Manchester became the centre of a terrible attack.
The attack sadly injured a number of people and killed 22, but following this attack the city of Manchester came together and united under the symbol of a bee.
A year later, the bee still plays an important role in commemorating what happened.
But why is the bee such an important symbol for Manchester?
The Manchester worker: Busy as a bee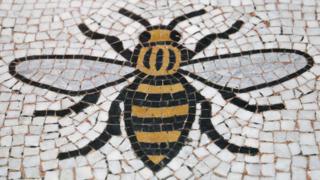 In the 18th and 19th Centuries, Manchester was at the centre of a period known as the Industrial Revolution.
The Industrial Revolution was a time in which there was lots of progress in technology and industry.
Instead of production happening by hand, businesses started to use factories and machines.
Manchester was at the heart of this revolution - it was known to some as Cottonopolis because of the amount of cotton fabric it produced.
The Mancunian factories were sometimes referred to as beehives, because the workers within them were so busy and productive.
This was how the bee became first associated with Manchester.
Want to find out more about other city symbols around the UK, then check out our quiz!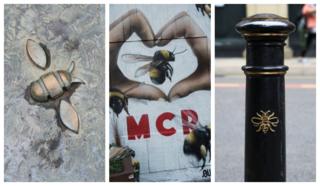 BBC / AFP
The idea of the Manchester worker bee as a symbol for the city became increasingly popular throughout the Industrial Revolution.
In 1842, the bee was first officially incorporated into the Manchester coat of arms.
Now you can see the bee all over the city!
For many Mancunians, the worker bee represents both hard work and working together.