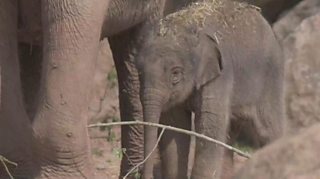 The baby elephant that kept everyone waiting
Zookeepers had a long wait for this little elephant calf at Chester Zoo but he was well worth it.
The keepers weren't the only ones, the calf kept his mum waiting too, when he was born three months later than expected.
But given how cute he is, we'll let him off.
He lives at Chester Zoo, and this the first time he's been caught on film by the team there, playing in the mud.
He doesn't have a name yet.