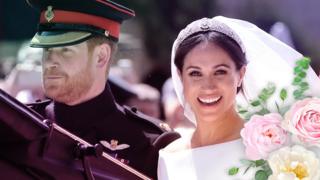 Press Association
Prince Harry and Meghan Markle tied the knot at St George's Chapel in Windsor at midday on Saturday, 19 May 2018.
Catch up on the morning's events below.
2:45pm - That's all from us for today, folks!
The wedding is done, the crowds have waved and cheered as the procession has gone past, and for the rest of the day, the royal couple will be celebrating their wedding more privately.
Guests will enjoy a special lunchtime reception hosted by the Queen, before a private celebration later in the evening for just 200 guests, which is being hosted by Prince Charles, who walked Meghan up the aisle earlier today.
You can catch up on Hayley's reports here or tune into Newsround tomorrow morning at about 10:30am to relive all the action from today!
And we shall leave you with some of the best dressed dogs at the royal wedding because... well, why not?
2:00pm - Newlyweds greet the crowds!
The couple have been greeted by cheering crowds as they tour around Windsor in a horse-drawn carriage.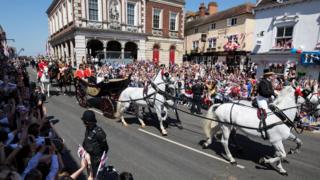 European Photopress Agency
1:00pm - The crowds wait to see the newlyweds!
Prince Harry and Meghan are officially husband and wife!
Now, the crowds are waiting to see them as they will be doing a carriage tour around Windsor.
While we're waiting for that to happen, you had some pretty great advice for how they can have a happy marriage...
12:30pm - The look of love
A reporter inside the chapel says: "As they sing, the bride and groom keep looking at each other... Prince Harry delighting in his role as the bridegroom."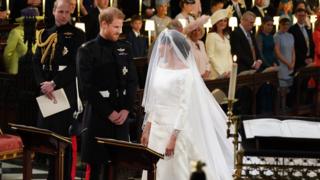 Press Association
The royal couple have now taken their vows, and there were lots of smiles as they said: "I will".
When Prince Harry said it, there were cheers from outside the chapel!
12:40pm - They are husband and wife!
Congratulations, Prince Harry and Meghan! They are officially husband and wife.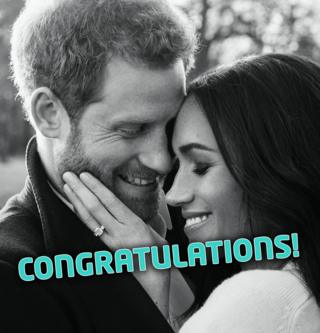 Kensington Palace
12:00pm - The wedding has begun
...and we've finally got our first look at the beautiful bride as she walked into St George's Chapel in Windsor to marry her prince.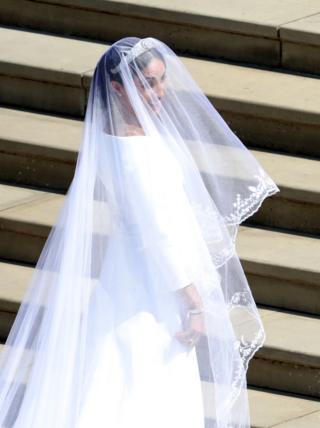 Press Association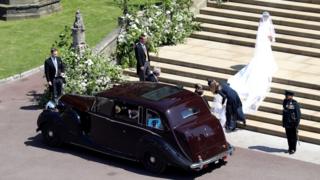 Press Association
11:50am - Prince Harry has arrived
We are moments away from the wedding of the year! Prince Harry has arrived and is waiting for his bride.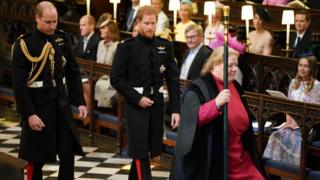 Dominic Lipinski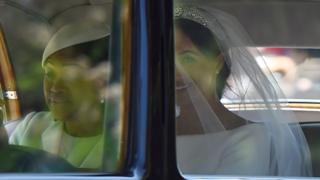 Reuters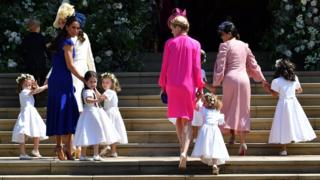 Getty Images
11:30am - Meghan's on her way!
We can now reveal that Meghan Markle has left her hotel with her mum Doria Ragland, to travel to Windsor Castle.
While we're waiting for her to arrive, here are lots of you enjoying your morning!
10:50am - Just over one hour to go!
With just over one hour to go until the service begins, send us your messages for the royal couple here!
Eight-year-old Ariana from Folkstone has written this brilliant poem for Harry and Meghan with her Grandpop.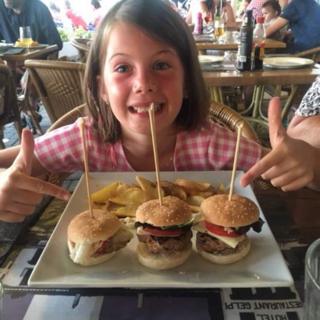 Aimee Spicer
On one day, the 19th of May,
Something wowza is going to happen,
Ring a ding ding from the Church bell,
Harry and Meghan both looking well,
Now getting married on this fine day,
Let's just hope the weather stays that way,
People come from far and wide,
To see Prince Harry and his beautiful bride,
The streets are lined 10 people deep,
Waving their flags and smiling sweet,
Prince Harry and Meghan I'd love to meet,
But I haven't booked me and Grandpop a seat!
10:00am - Not long to go now!
We've got a sneak peek at the order of service for the wedding ceremony today. Take a look...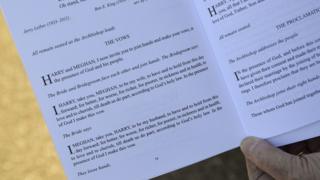 Press Association
We also now know what their wedding rings are going to be!
Meghan's has been made from a piece of Welsh gold that was given to her by the Queen. It's a royal tradition dating back more than 90 years for Welsh gold to be used.
Meanwhile, Prince Harry's ring will be a platinum band with a textured finish.
Prince William - who is best man - will bring the rings to the chapel shortly as he is the best man.
As everyone waits excitedly for the ceremony, we're loving some of the costumes in the crowd too! Is it just us or are we seeing double below!?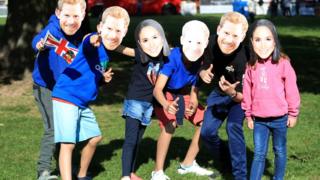 Press Association
9:45am - Guests are arriving!
Prince Harry and Meghan have invited 1,200 members of the public to the grounds of Windsor Castle for their wedding, and they've been arriving over the past few hours.
A selection of charity workers, school children, royal household members and people who live in Windsor are all on the guest list. We're not at all envious - honest!?
Earlier this morning, Prince Harry and Meghan Markle were officially given the titles the Duke and Duchess of Sussex.
Harry becomes the Duke of Sussex immediately and Meghan will become the Duchess of Sussex once they are married.
A statement from Buckingham Palace said: "Prince Harry thus becomes His Royal Highness The Duke of Sussex, and Ms. Meghan Markle on marriage will become Her Royal Highness The Duchess of Sussex."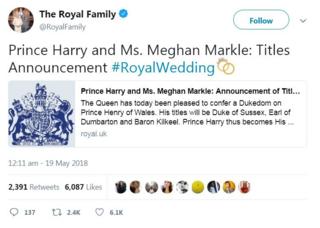 Twitter/@royalfamily
Excited crowds are continuing to gather outside Windsor Castle. While we're waiting for the main event to get started, you can find out EVERYTHING you need to know about the big day here - the cake, the flowers, who's going to be there...
And we want your messages for the royal couple - send them in to us here!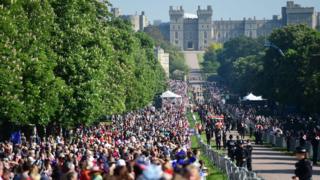 PA
9:00am - Is it too early to be thinking about cake? No.
While we're sat here waiting for things to get fully under way, our minds are already on one of the most important elements of the day - of course, we mean the cake! Who isn't thinking about cake first thing in the morning?!
For a royal wedding, it is traditional to have a fruit cake, but we know that Prince Harry and Meghan are mixing things up a bit by having a lemon and elderflower cake for their big day!
We've already had a sneak peek at the cake being made, but we can't wait to see pictures of what the final cake looks like!
While we're waiting to get our first glimpse of the happy couple, who's going to bring us some cake to Newsround HQ, please?
The day has finally arrived when Prince Harry will be marring Meghan Markle at St George's Chapel in Windsor.
To find out everything you need to know about the big day, click here on our handy guide.
We'll be bringing you all the latest, so keep your eyes peeled here for more royal wedding fun and festivities throughout the day!