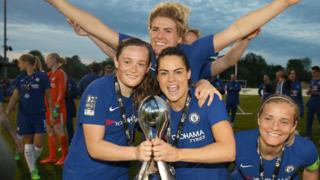 PA
It was a great night on Tuesday for Chelsea Ladies, after they beat Bristol City 2-0 to secure the Women's Super League title.
This comes after the team beat Arsenal 3-1 in the FA Cup final on 5 May.
They spent much of the game against Bristol City just one goal ahead, before Jonna Andersson slotted in a late second goal in the 88th minute to secure victory for the Blues.
Chelsea midfielder Gemma Davison: "We stayed focused and patient throughout the game. Good teams do that, and we put the pressure on in the last 30 minutes and got our rewards."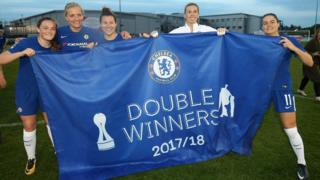 Press Association
This is the second time Chelsea Ladies have secured the double, after doing the same back in 2015.
The team had never won a trophy before manager Emma Hayes arrived in 2012.
The team is now just one game away from finishing the season unbeaten in the league, having won their fifth major title in the club's history and their second in just 11 days.
They will take on Liverpool in their final game of the league.
Congratulations, guys!