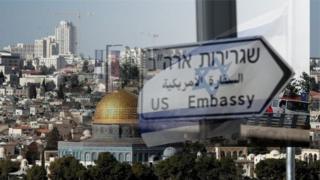 Getty Images
The US government has embassies all over the world, where people who represent America in foreign countries work.
Until now the US embassy office in Israel has been in the city of Tel Aviv, which is the country's commercial capital.
But last year American President Donald Trump said that the US would now recognise the city of Jerusalem as Israel's capital city. Becoming the first country to do so
Because of this, the US government is opening its new embassy there.
The decision has been welcomed by Israel's government, and is strongly supported by Israeli Jews.
But lots of Palestinians are very unhappy about it.
That's because the status of Jerusalem goes to the heart of the conflict between Israelis and Palestinians.
On Monday the 14th of May thousands of people were protesting in Gaza, which is where many Palestinians live.
Palestinians had been protesting for weeks but deaths soared on the day the US opened its embassy in Jerusalem.
Palestinian officials say that 58 Palestinians have been killed and 2,400 wounded by Israeli troops.
Israeli Prime Minister Benjamin Netanyahu said: "Every nation has the right to defend its borders. Hamas clearly says its intentions are to destroy Israel and sends thousands to break through the border for that end."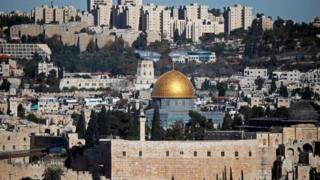 Getty Images
Why is Jerusalem so controversial?
Jerusalem is very important for religious reasons, and has many of the most important religious sites for Judaism, Islam and Christianity.
After a war in 1948 the city of Jerusalem ended up being split. Jordan was left in control of East Jerusalem, and Israel in control of West Jerusalem.
But after another war in 1967, Israel took control of the entire city and regards the whole of Jerusalem as its capital.
However, Israeli control over Jerusalem is not internationally recognised and, according to a 1993 agreement between Israel and the Palestinians, the final status of Jerusalem is meant to be decided in eventual, final peace talks.
Because Israel's presence in East Jerusalem has not been accepted by most of the international community, East Jerusalem is often described as being "occupied" by Israel.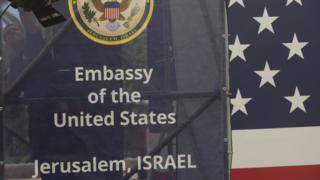 Getty Images
Many Palestinians want to have their own state, and want East Jerusalem to be their own future capital.
So they see this move by the US as backing Israeli control over the whole city and they don't agree with it.
Palestinian President Mahmoud Abbas has described Mr Trump's decision as the "slap of the century".
He says the US can no longer be considered neutral, and cannot have any future role in any Israeli-Palestinian peace talks.
Do other countries have embassies in Jerusalem?
Various countries once had embassies based in Jerusalem - but those that did moved after Israel passed a law in 1980 formally making Jerusalem its capital.
But the US has been more interested in having an embassy in Jerusalem than other countries.
Back in 1995 the US Congress passed an act calling for the embassy to be moved, but until 2017 no action had been taken.
In fact, until President Trump's announcement last year, every president (including Mr Trump) had signed the waiver every six months, to delay any embassy move.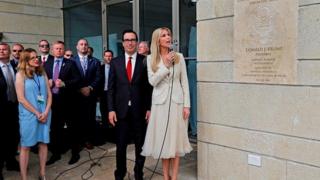 Getty Images
The US is the first country to recognise Jerusalem as Israel's capital since the state of Israel was declared in 1948.
Mr Trump repeatedly pledged during his election campaign to move the embassy, and said moving the offices from Tel Aviv to Jerusalem was a "recognition of reality" and "also the right thing to do".
But the embassy move has been rejected by the main allies of Israel and the US, including the UK. The British Government says it has no plans to move its embassy from Tel Aviv.
The new embassy opened on Monday, based inside the existing US consulate building in Jerusalem.
President Trump spoke via video link to those attending the opening ceremony, which had been brought forward to coincide with the state of Israel's 70th anniversary.
A larger, permanent site for the embassy in Jerusalem will be found at a later date.