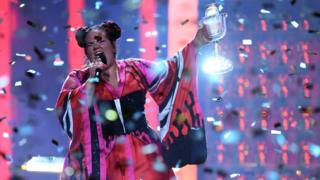 AFP
Ah the Eurovision Song Contest... it never fails to entertain!
This year saw Netta from Israel win with her song called Toy, complete with a chicken dance to go with the lyrics.
Cyprus came in second place but the UK's entry SuRie finished 24th out of the 26 countries.
Her performance was interrupted by a stage invader, who grabbed the microphone off her.
She was given the chance to perform again for a second time at the end, but chose not to.
The woman from Israel was so funny and hilarious. Poor SuRie - it must have been very scary. You could see she was shook up. I am not surprised. Moldova was really clever.
Hope, 17, Aberfeldy
I really liked the chicken lady because she is so funny, the song is really catchy.
Wali, 11, London
I liked SuRie's song the most but it was sad that the stage invader stopped her song.
Nithusiga, 9, London
Thanks for your comments. This page is now closed.