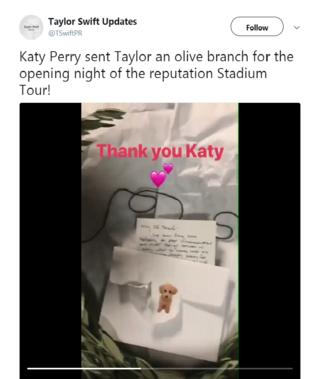 Twitter/@TSwiftPR
It's never nice having an argument with one of your friends.
But that's exactly what happened to Katy Perry and Taylor Swift who have famously been locked in an argument since at least 2014.
They reportedly fell out in a row over backing dancers and the two megastars responded in the only way that they knew how - they wrote songs about it. Ouch!
Taylor's Bad Blood is thought to be about Katy, while Swish Swish is said to be about Taylor.
But now - it is thought that this A-list bust-up could be over after Katy Perry sent Taylor Swift an olive branch in a box.
The phrase to extend an olive branch means to make a sign to someone that you want to stop an argument, as an olive branch is a symbol of peace - so Katy has extended an olive branch to Taylor quite literally!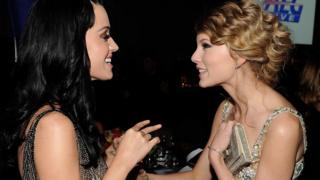 Getty Images
Swifty shared a video on social media of the package which she received from her former rival.
"I just got to my dressing room and found this actual olive branch," she said in her video. "This means so much to me."
The package does appear to have a note in it too, but it's hard to see what it says. Reports suggest the words "miscommunications" and "deeply sorry" are written on it.
It has been reported though that Katy might not be very happy that Taylor made her gesture so public.
Could there be a make-up song on the cards? Oh, we do hope so.