Bride-to-be Meghan Markle is the latest person to have her waxwork unveiled at London's Madame Tussauds.
She's wearing a green dress and a replica of her engagement ring.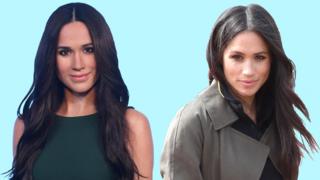 Getty Images
She stands next to Prince Harry's waxwork, which was originally made to mark his 30th birthday in 2014. But it's had an update too - his beard has been added.
Do you think they look like the real Prince Harry and Meghan Markle? Take a watch.