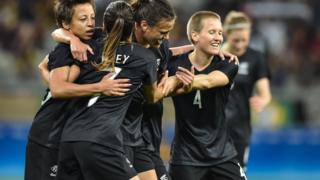 Getty Images
New Zealand's women's football team, the 'Football Ferns', are to be given the same pay as their men's team, the 'All Whites.'
New Zealand is one of the first countries in the world to do this.
The Norway Football Association signed a similar agreement last year, where their male and female footballers would be paid the same amount.
The New Zealand deal means women playing for the national team will receive equal payments and prize money.
They will also have the same rights for image use and can enjoy the same travel arrangements as the men's team while representing New Zealand.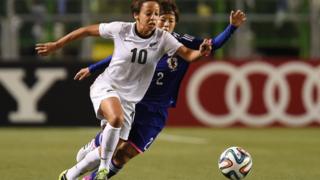 Getty Images
Football Ferns striker Sarah Gregorius said the deal represented an important principle that recognised the effort women put into their sport.
"It's such an awesome line that we've now drawn in the sand," she told Radio New Zealand.
"No matter who you are, whatever gender, when you pull on a New Zealand football shirt you're entitled to the same treatment and respect no matter what."
This new agreement is unlikely to make a massive difference financially to female footballers in New Zealand, as the men's side are ranked 133rd in the world, and earn only a fraction of the bigger, more famous international football teams like England. The Football Ferns are ranked 20th.
According to the annual global sports salaries survey in 2017, the average woman playing in the FA Woman's Super League (FAWSL) is paid £27,000 - about one percent of the salary of a male Premier League player.
The study reveals that the Premier League remains the richest and best paid football league in the world. It's annual pay is much more than Spain's La Liga, Italy's Serie A, Germany's Bundesliga and France's Ligue 1.