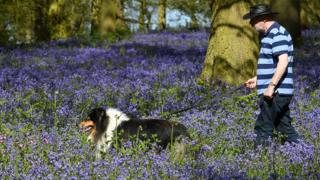 PA
The record for the warmest early May bank holiday has been broken, with bright sunshine across much of the UK.
St James' Park in London, England, reached 28 Celsius on Monday - beating the previous record of 23.6 Celsius set in 1999.
It's the hottest since the bank holiday was introduced 40 years ago, and temperatures are continuing to climb.
However, Met Office weather expert Charlie Powell said the top temperature of 28 Celsius would still be "the exception rather than the rule".
"I think for most places, if you take the bulk of England and Wales for example, we're looking at somewhere around the low to mid 20s mark," he said.
Want more? Viewers send in their sunny bank holiday selfies!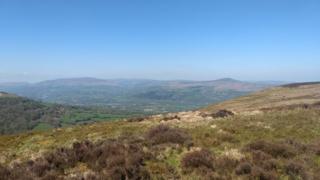 Dafydd/@DafyddLThomas
Much of the UK has been blessed with blue skies and sunshine across the three-day holiday weekend, leading to busy roads and overcrowded trains as people flock to the seaside.
Temperatures peaked on Sunday at 26 Celsius in Northolt in London.
Meanwhile, Wales saw a top temperature of 23.6 Celsius in Llysdinam, and in Scotland the weather reached 21.8 Celsius in Edinburgh.
In Northern Ireland, the highest recorded was 20.8 Celsius in Katesbridge.
How to stay safe in the sun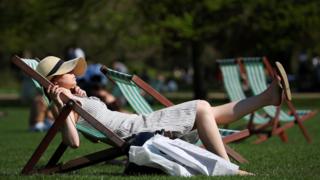 Reuters
According to Dr Farrah Sheikh, absorbing enough sun is important, as it provides essential Vitamin D. However, it is also important that we are sun safe. She suggests the following:
Stay out of the sun when it is at its hottest (between 11:00am and 3pm)

Try to cover up as much as possible - wear a hat

Apply plenty of sunscreen, particularly with children as their skin is a lot more sensitive. Re-apply sunscreen every one to two hours

Drink lots of water