On 3 May 1968, an operation took place that would change medical history in the UK.
The UK's first heart transplant was carried out at the National Heart Hospital in Marylebone in London.
A team of 18 doctors and nurses led by a South African-born surgeon called Donald Ross were behind the historic operation.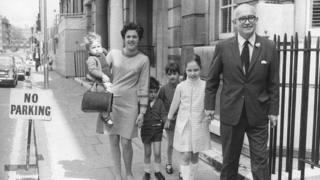 Getty Images
The donor heart came from a 26-year-old man called Patrick and was given to a 45-year-old man.
It was the 10th heart transplant ever to be undertaken in the world.
The very first one was carried out by a surgeon called Christiaan Barnard in Cape Town, South Africa, in December, just a few months before.
What is an organ transplant?
An organ transplant is a special medical operation during which an organ is taken from one person's body and put into the body of another person, who is ill and who needs the organ(s) to survive.
Many different types of organs can be transplanted - the heart, lungs, kidneys, bladder - as well as certain parts of the body, like a hand.
Some tissues - like skin or bone - can also be transplanted.
An organ that is being transplanted will usually come from someone who has passed away but whose organs are healthy enough to be given to someone else.
The organ - or organs - is carefully taken from the body and transported to where the patient who needs it is being treated. A transplant operation will then take place.
In some cases, people can donate certain parts of their body to someone else while they are alive. For example, Selena Gomez received a kidney from a living friend.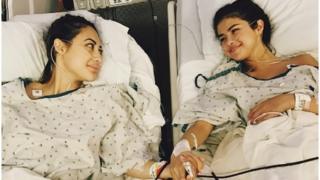 INSTAGRAM/ SELENA GOMEZ
Organs to be used in transplants come from people called organ donors. Organ donors are ordinary people who have agreed that their organs can be used in this way.
To be an organ donor, you must be on a special organ donor register.
Even though there are 25 million people on the register, there are still not enough organs available for people who need transplant operations.
Around 6,500 people who have health problems are on waiting lists to receive new organs.
Can anybody donate an organ to anybody?
No, a transplant operation is a very complicated procedure.
In order for one person to have somebody else's organ transplanted into their body, the two people must be a very particular match.
Medical professionals will carry out a lot of tests to make sure that the two people are suitable.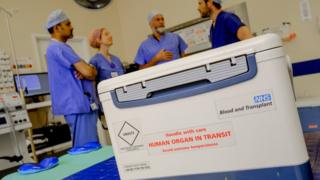 NHS Blood and Transplant
Even once a transplant operation has happened, it is a difficult and delicate process to make sure the receiver's body 'accepts' the new organ.
A person who has had a transplant will need to take special medication called immunosuppressants for the rest of their life to make sure that their body never rejects the 'foreign' organ.
Is everybody an organ donor?
No - the rules are different depending where you live.
In some places, you have to sign up to the organ donor register to say that you are happy for your organs to be used in this way. This is called a 'opt-in' system, as you have to actively choose to be on the list.
In other places, everybody is automatically made an organ donor. If you don't want to be, you have to ask to be removed from the register. This is called an 'opt-out' system.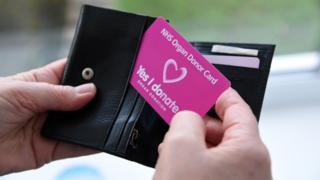 NHS Blood and Transplant
England and Scotland currently have an opt-in system.
Wales currently has a soft opt-out system (it is called 'soft' because if a family member of someone who has passed away does not want their organs to be donated, then they won't be).
In June 2017, the Scottish government announced that it intended to bring in the same system as Wales, after research showed that 8 in 10 people were in favour of this.
In Northern Ireland, there is also currently an opt-in system, but the British Medical Association - which has been campaigning for an opt-out system for the whole of the UK since 1999 - is calling for the introduction of an opt-out system in Northern Ireland too.
Now, Prime Minister Theresa May wants to change the rules in England too.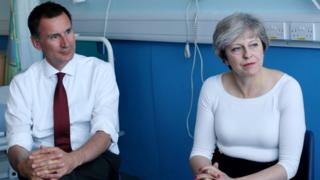 Getty Images
This came after she read the story of Max - the boy in the video at the top of this page. When hearing about his heart transplant, she wrote a letter to him.
"When I read your inspirational story, I knew I had to act to change the organ donation rules to an opt-out system," she said.
This is why the proposed changes to the law are being called Max's Law.
The government has said it "wholeheartedly" supports the changes to the law, and MPs in Parliament have backed them too.
Many will be waiting to see if the changes get the official seal of approval.