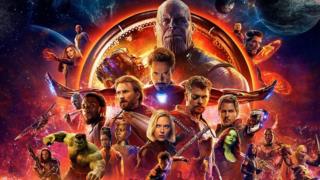 Marvel Studios
If you enjoy living under rocks with a pair of headphones stuck in your ears, there's a chance that you might not have heard that there's a new Avengers film.
But there's no excuse to avoid it anymore! In the first few days since its release, Avengers: Infinity War has already broken massive box office records.
It's already taken $630m (£457m) globally in its first weekend. It's not even been released in China yet!
The film has already overtaken last year's box office hit - action film The Fate of the Furious.
As Hulk would say... that's a box office SMASH.
This is the first part of the Avengers: Infinity War story - with the second film set to be released in May 2019.
Can't enough of all of this superhero chat? Why not check out our superhero quiz and find out which superhero you are!