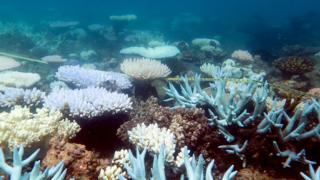 AFP
Australia has pledged £275 million to protect the world-famous Great Barrier Reef.
The reef is the world's largest living structure and it can even be seen from space. It's also home to thousands of plants and animals.
But in recent years, it has lost nearly a third of its coral due to bleaching linked to rising sea temperatures and damage from crown-of-thorns starfish.
The funding will be used to reduce the amount of farming chemicals being dumped into the reef and improve water quality.
Some of the money will be used to help farmers near the reef change the way they do things.
Conservationists have welcomed the extra funding, but said the Australian government needed to focus on climate change and cutting greenhouse gas pollution.