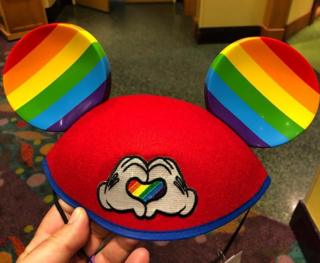 Twitter/@MyDaughtersArmy
Ahead of Pride Month in the US in June, it has been reported that Disney parks are selling rainbow Mickey Mouse ears.
The rainbow flag is a symbol for gay pride all over the world.
Social media user Greg Hogben said: "I love this. For the first time ever, Disney Land and Disney World have released official Mickey ears for Pride."
You will see the striped flag a lot at Pride events. These festivals, which started with an event in London in 1972, celebrate the gay community and show support for equal rights for everyone.
The flag is flown in cities across the world and many people wear it as part of their outfits to show their support for the gay community.
While many are praising Disney for releasing these special ears, some are saying that more needs to be done to see LGBT (lesbian, gay, bisexual and transgender) people included and represented in Disney's blockbuster films.