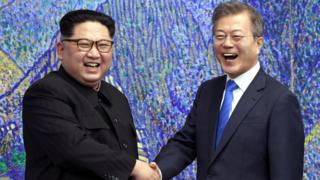 Getty Images
The leaders of North and South Korea have met for the first time in 10 years.
North Korea's Kim Jong-un and South Korea's Moon Jae-in shook hands at the border, and then held hands as they crossed the military line between the two countries.
This is the first time a North Korean leader has set foot in the country of South Korea in 65 years.
In Pictures: North and South Korean leaders meet
That was when the Korean war ended as the countries agreed an armistice - which is when warring countries agree to stop fighting.
It was that war which split Korea into two; North and South.
The two leaders have now said they will formally agree a peace treaty by the end of the year.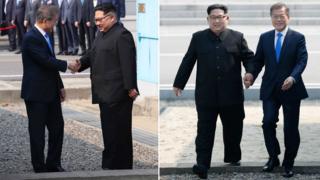 Getty Images
Find out more about North Korea in our guide: What do we know about North Korea?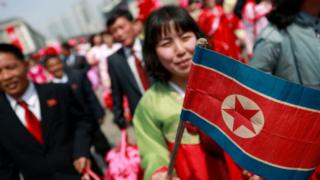 EPA
The two neighbours have not held serious talks since December 2015.
This meeting is part of a summit, and comes after a recent relaxing of tensions between the countries.
Over the last few months North Korea has been making efforts to start friendlier talks with its neighbour.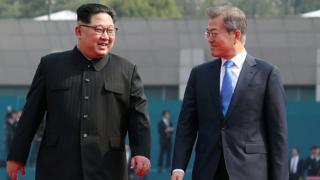 Getty Images
In January 2018 a secure phone line was reopened allowing the two government's to talk to one another.
This phone line had been disabled almost two years beforehand on Kim Jong-un's orders.
Mr Kim said he was open to communicating with South Korea, and sent a team to the 2018 Winter Olympics in the South Korean city of Pyeongchang.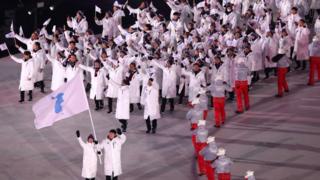 Getty Images
North and South Korea also put on a show of unity during the Olympic opening ceremony, with their athletes entering the stadium under the same flag.
The flag showed the outline of both countries joined together.
A week before his meeting with the South Korean leader, Kim Jong-un announced his country will no longer carry out tests of its nuclear weapons or missiles.
Mr Kim has also promised that a nuclear testing site in the north of his country will be shut down.
Some people think this is a sign the North Korean leader is also interested in making peace with America.
Some people have said that a potential meeting between Kim Jong-un and President Trump could take place in late May or early June.