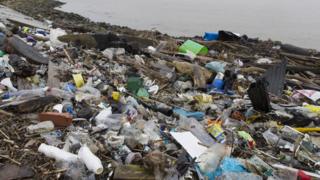 Getty Images
More than 40 companies are promising to cut plastic pollution over the next seven years.
Coca-Cola, Asda and Marks and Spencer are just three of the companies which have signed up to an agreement to do better when it comes to plastic waste.
It promises include getting rid of single-use packaging through better design.
Another part of the plan is to make 100% of plastic packaging ready for recycling or composting by 2025.
Find out more about the issues with plastic
Guide: Why is plastic a problem?
Why do people want to ban plastic?
Plastic recycling: Could this be a new way to reuse it?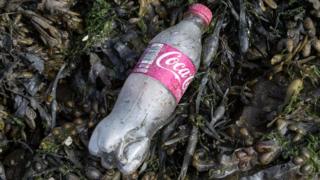 Getty Images
The government and campaigners are also involved in what is now being called the UK Plastics Pact.
The companies that have signed up are responsible for more than 80% of plastic packaging on products sold through UK supermarkets.
The environment campaign group WRAP, the Waste and Resources Action Programme, has described the agreement as a "once-in-a lifetime opportunity" to rethink plastic, both to make use of its value and to stop it damaging the environment.