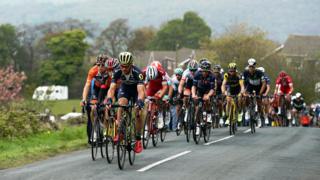 Getty Images
The Tour de Yorkshire gets under way today.
Cycling fans will soon be lining the streets of Yorkshire to cheer on riders taking on the challenge.
The race begins on Thursday 3 May and, for the men, finishes on Sunday 6 May. The women's race lasts two days.
But what is the Tour de Yorkshire and where did it come from?
Where did the race come from?
The Tour de Yorkshire came about after Yorkshire played an important role in a world-famous cycling race called the Tour de France four years ago.
The Tour de France is a gruelling 23-day race that sees some of the world's most famous bike riders zoom around the whole of France.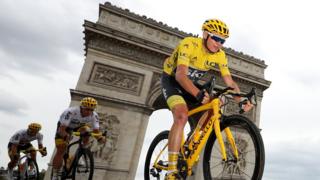 ALLSPORT/Getty Images
Sometimes the race starts in another country, which is called the Grand Depart.
In 2014, Yorkshire was selected to host the Grand Depart - and ever since then, an annual cycling race called the Tour de Yorkshire has been organised in England.
So this year will be the fourth year that the Tour de Yorkshire has taken place.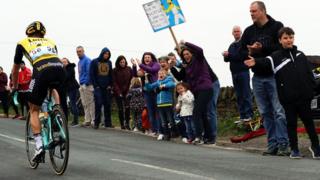 Getty Images
Each year, the route is slightly different and there are separate men's and women's races.
In 2017, it was watched by around 2.2 million people, generating around £64 million for the local area, so its gives tourism in Yorkshire a massive boost.
Sir Gary Verity, who is in charge of organising the race, explained: "In just three years it has grown to become one of the best attended and most dramatic races on the cycling calendar."
What's special about this year?
Up until this year, the men's race lasted for three days and the women's race for one day - but all of this has changed for 2018.
After a record number of spectators last year, the race has been extended with an extra day given to the women's event.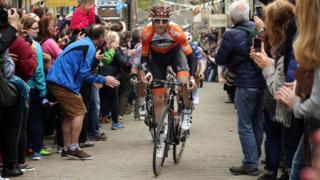 Getty Images
It means there's more opportunity than ever for sports fans to enjoy watching the riders.
Eight places in Yorkshire have been picked to host the starts and finishes of each section of the race this year - Barnsley, Beverley, Doncaster, Halifax, Ilkley, Leeds, Richmond (which is hosting for the very first time) and Scarborough.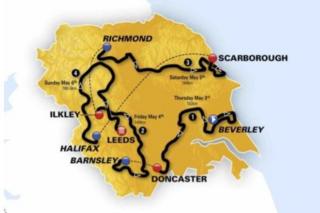 Tour de Yorkshire
Stage one: The first stage involves a 111-mile race race from Beverley to Doncaster for the men, with a slightly shorter course for the women. This stage only features around 660m of climbing, so fans can expect some good performances from sprint riders on day one.
Stage two: The second stage - which is 92 miles - starts in Barnsley and ends with a summit finish at the famous Cow and Calf Rocks on Ilkley Moor. Like the first stage, the women's race will be shorter and this is where it will end.
Stage three: This section will start in Richmond and feature a similar finish to the previous stage, but this time it will be on Scarborough's North Shore. This route will take in the North Yorkshire moors, so hopefully there'll be some beautiful views to inspire the riders!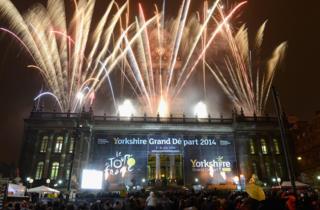 Gareth Copley
Stage four: This final stage starts in Halifax and will involve 3,400m of climbing (phew!), before the race finishes outside the Town Hall in Leeds, where the 2014 Tour de France began. This will be the first time Leeds' city centre has been closed off for an international race since the 2014 Tour de France, so the atmosphere should be very exciting.
Cycling fans will be pleased to know that Olympic road race champion Greg van Avermaet will be taking part this year - but he is far from the only cycling star heading to Yorkshire in May.
British rider Mark Cavendish will also be returning to the saddle, after recovering from two high-speed accidents in March.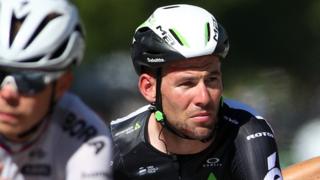 Chris Graythen
"I'm delighted to be back racing sooner than I initially thought," he said. "It's the first time that I've raced the Tour de Yorkshire and I'm extremely excited."
Last year, he had said he "definitely" wanted to race in the Tour de Yorkshire, given that it is his mother's home county and a "special place to ride".
The 2017 men's winner, Serge Pauwels, will also be returning to defend his title.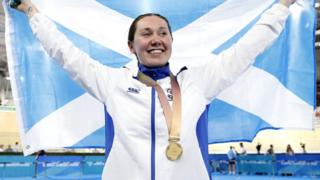 PA
In the women's race, Olympic champion Anna van der Breggen will be taking to the streets of Yorkshire, along with Britain's Katie Archibald and Dani Rowe.
Lizzie Deignan, who won last year, will not be racing as she is expecting a baby.