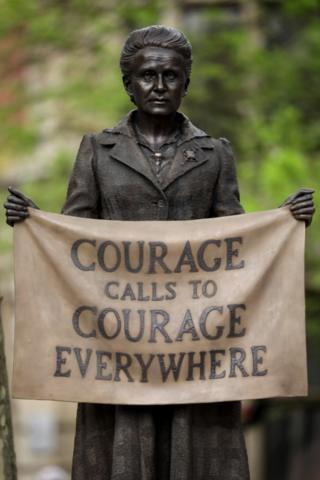 Getty Images
A statue of a woman called Dame Millicent Fawcett was unveiled in Parliament Square in London on Tuesday.
It is the first statue of a woman to grace the square.
The bronze figure was designed by an artist called Gillian Wearing - the first female sculptor to have a work displayed here.
But who was Millicent Fawcett and why has she got a statue?
Who was Millicent Fawcett?
Millicent Fawcett was an important character in the fight to win women the right to vote for who represented them in Parliament.
Up until 1918, only men were allowed to do this.
In 1897, Millicent set up a group called the National Union of Women's Suffrage Societies, which believed in using non-violent tactics to persuade the government that women deserved the right to vote too.
She set up a group called the suffragists. They held meetings, paraded with banners, wrote letters or signed petitions demanding the vote for women.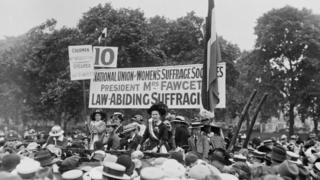 Huw Evans picture agency
It proved a difficult battle to win. A woman called Emmeline Pankhurst, who was originally a member of this group, believed that more needed to be done.
She went on to set up a separate group in 1903 called the Suffragettes, who used more violent tactics to make themselves heard - for example, chaining themselves to railings and setting buildings on fire.
Even though they used different tactics, together, the suffragists and suffragettes worked together to fight for women to have the right to choose who represented them in Parliament.
After World War One, a law was passed which gave this right to some women and all men.
This wasn't all that Millicent did, though. Aside from her suffrage campaigning, she was a key member in founding Newnham College at Cambridge University in 1871, which was one of the first English university colleges for women.
She was made a Dame after the war in recognition of all that she had done.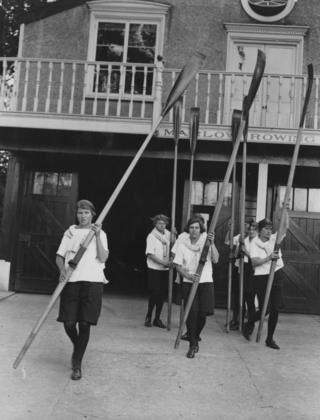 Topical Press Agency
In 1928 - 10 years after the law first gave some women the right to vote - the law was extended to give the vote to women in the same way as men.
Just one year later, Millicent died, meaning she had lived long enough to see her lifetime goal achieved.
In 1937, Newnham College named its newest building Fawcett, after the famous suffragist.
Then in 1953, the London and National Society for Women's Service, which worked to get better job opportunities for women, was renamed the Fawcett Society.
Why is she getting a statue?
This year is an important year as it marks 100 years since women first got the right to vote.
So campaigners saw it fitting to mark the occasion with a statue of one of the key figures in winning this battle.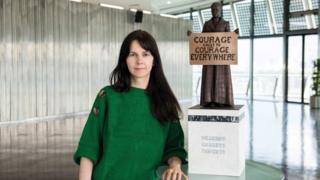 Courtesy of the artist
The statue of Millicent was unveiled in Parliament Square in London, as this is right outside the Houses of Parliament - which is where the people that adults vote for work together to run the country.
Ahead of the unveiling, the Mayor of London Sadiq Khan said the statue was "long overdue".
"This will be one of the most momentous and significant statues of our time," he said.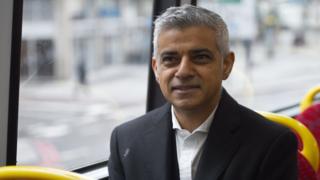 Press Association
Her statue joins the 11 men in the square already, including Sir Winston Churchill and Nelson Mandela.
The names and portraits of 59 men and women who also campaigned for women's suffrage are inscribed on the base of the statue.
A statue of Emmeline Pankhurst currently stands nearby in London's Victoria Tower Gardens, close to the Palace of Westminster.
On 8 March 2019, a statue of Emmeline Pankhurst will be unveiled Manchester's St Peter's Square to mark International Women's Day.