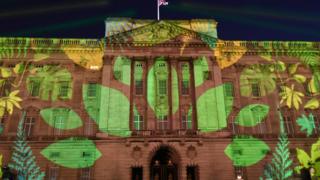 Getty Images
Buckingham Palace in London was given an exciting new look on Sunday night.
It was lit up to look more like a rainforest than a home fit for royalty!
The leafy shapes and green lights are all part of a big project to help protect forests around the world for the future.
It's called the Queen's Commonwealth Canopy (QCC) project. (In a rainforest the canopy is the upper parts of the trees.)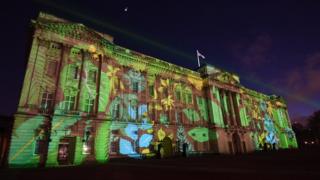 Getty Images
Britain's Queen is the head of a group of countries called the Commonwealth and all 53 nations are involved.
This week, representatives of the 53 countries will be gathering in London for a special meeting, during which they will discuss environmental themes among other things.
During the course of her reign, the Queen has planted more than 1,500 trees all over the world.
And now, a special documentary called The Queen's Green Planet to be shown on television on Monday night, will highlight her love for the natural world.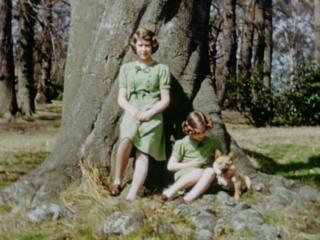 ITN Productions
Filmmaker Jane Treays, who worked the programme, explained: "She has spent her life planting trees, and so have her ancestors."
"It was very beautiful and touching to see how she relates to them, and how much they mean to her. She has a particular love of some London plane trees (at Buckingham Palace) planted by Queen Victoria", who is the Queen's great, great grandmother.
The Queen's Green Planet also features Sir David Attenborough, who told the Radio Times that it was "a privilege" to make the programme with her.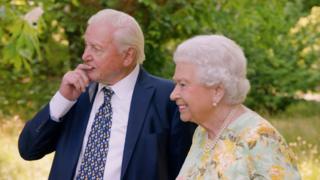 ITN Productions
In the documentary, we will see the Queen talk about how, over the years, lots of people have given her trees as presents.
"I've been quite difficult to give presents to," she jokes, "so they've said, 'Oh, let's give her a plant'."
Speaking about how important she feels the QCC is, the Queen tells Sir David: "If all countries continue to plant, it might change the climate again."
The Duke and Duchess of Cambridge and Prince Harry, as well as Hollywood star Angelina Jolie and her six children, will also feature in the film.
The Queen's Green Planet will be on ITV at 9pm on Monday 16 April