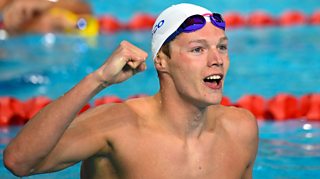 Scotland's Scott 'fears no one' in the pool
The 2018 Commonwealth Games has been record-breaking for Team Scotland.
They had never won more than 30 medals at an overseas Games until this year's event in Australia's Gold Coast.
Swimmer Duncan Scott has played a big part in Scotland's record haul - winning six medals in the pool including one gold.
Watch Duncan talk to Newsround about his incredible experience at the Games.