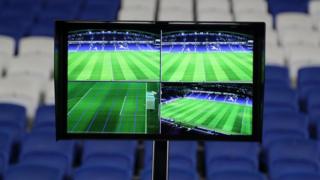 Gareth Fuller
VAR (Video Assistant Referee) technology played a huge part at the Women's World Cup in France
It's the first time the technology has been used at a Women's World Cup but some decisions made using it have caused controversy, leaving some players, managers and fans frustrated.
Lionesses forward, Ellen White had two goals disallowed because of VAR reviews. If the goals had been given, she would've been the tournament's biggest scorer, winning the golden boot.
However she had goals ruled out for a handball against Sweden and offside against the USA. The decisions even saw England Manager Phil Neville ask for a change in the rules over handball.
Meanwhile, the Premier League is about to use VAR for the first time this coming season.
Referees' chief Mike Riley says that there will be a 'high bar', before VAR is used instead of the on-field referee.
He said there had been a "reaction" to some uses of VAR at the Women's World Cup in France.
"We don't want VAR to come in and try to re-referee the game. We actually want it to protect the referees from making serious errors, the ones everybody's goes: 'Well, actually, that's wrong.'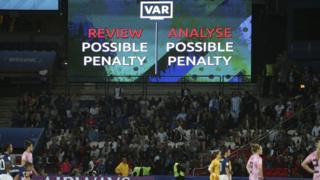 Getty Images
More VAR at the Women's World Cup
It wasn't just England who had to contend with VAR decisions at the Women's World Cup.
The USA won their fourth World Cup, beating the Netherlands 2-0 in the final and VAR was a factor again. The Americans scored their first goal thanks to a penalty awarded after a video review, coming at the end of a tournament in which the system has been a major talking point.
Scotland were knocked out of the World Cup, by Argentina thanks to late VAR drama.
The Video Assistant Referee was used to award Argentina a late stoppage time penalty. Lee Alexander saved the spot kick, but VAR was called into play again with the keeper judged to have left her goal line. The retaken kick was scored and Scotland were sent home.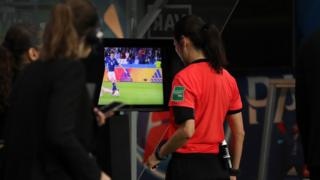 Getty Images
With controversial decisions and lengthy delays some people have been unhappy with VAR, but sometimes the technology wasn't used at all.
Hosts France were trailing by a goal in the 85th minute against the USA in the Quarter Final, when American defender Kelley O'Hara appeared to block a cross with a hand in the penalty area. But for some reason the referee didn't check VAR, which meant France missed a possible chance to take the game into extra time.
Read on to find out more about the technology.
In football, VAR is another referee, but one that has access to TV replays from lots of different angles.
The video assisted referee will always take a look at goals, penalties and straight red cards, even if the on-field referee has not asked for a review. If a mistake has been made, the referee will be told.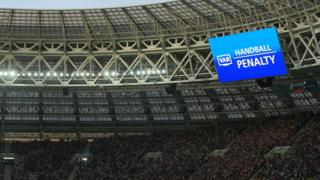 Getty Images
The on-field referee can also refer to the VAR if he or she is not sure about something they've seen.
So, it helps with four potentially match-changing situations:
Goals

Penalty/no penalty decisions

Straight red cards

Cases of mistaken identity by the referee
It has been used around the world since March 2016, when football rule-makers agreed to a two-year trial period to find out if it would improve the sport. By November 2018, the technology had been used in 20 competitions.
An official report from January 2018 said that VAR had been accurate in 98.9% of decisions during its two-year worldwide trial.
Watch this video to find out more about how it works.
The Premier League will use the Video Assistant Referee system for the first time from the start of the 2019/20 season.
It was used in the World Cup for the first time in 2018 in Russia.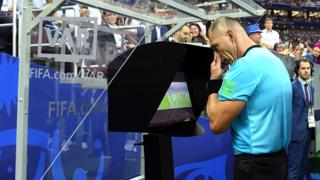 Getty Images
What do people think of VAR?
Opinions about VAR are very mixed.
Lots of people think it should be used to stop mistakes being made, which could alter the outcome of entire tournaments.
But others disagree, saying that using VAR causes long delays in play. It can also disrupt the emotion and excitement of football matches - especially for fans watching the game in the stadium.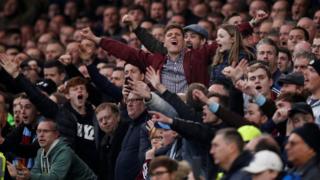 Reuters
They often can't see or hear what's going on when a VAR decision is being discussed.
Many also feel that as VAR is not used to make all decisions, it isn't right that some wrong decisions would be overturned but others could still stand.
Many people feel football took too long to adopt using video technology, arguing other sports had been using it for a long time.
For example, Hawk-eye cameras are used in tennis to see if a ball was in or out, and a TMO - television match official - is used in rugby to help the referee on the pitch determine if a try should be allowed or not.
When Fifa announced that VAR would be used at the World Cup in Russia for the first time, it was a significant moment for football.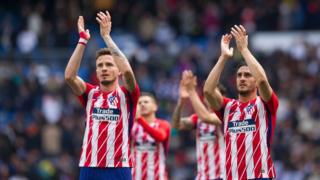 ALLSPORT/Getty Images
Fifa president Gianni Infantino explained: "We wanted to give the referees tools so they can make better decisions, and in the World Cup some very important decisions are made."
Spain's La Liga and France's Ligue 1 are also going to introduce it from next season.
What do you think of VAR? Do you think it's a good idea? Let us know your thoughts in the comments below.