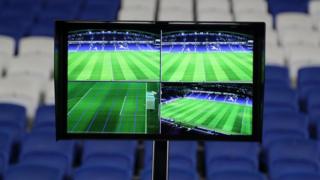 Gareth Fuller
The Premier League is expected to use the Video Assistant Referee system for the first time from next season.
At a special meeting on 15 November, the clubs agreed to the plan.
The Premier League will now make a formal request to the International Football Association Board and Fifa to use VAR from August 2019.
When officials on the pitch need help to make or clarify a decision, they can watch the action back on video replay.
There are also a team of referees based in a VAR room, who are constantly monitoring the game.
But despite the advance in technology, VAR has proved to be controversial, with some in favour of it and some people against it.
When has it been used before?
It was used in the World Cup for the first time in 2018 in Russia. Here are some examples.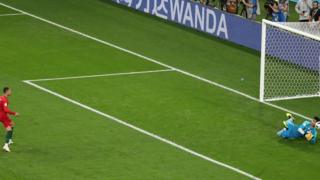 Reuters
Portugal 1-1 Iran
There were some confusing and dramatic moments in Portugal's 1-1 draw with Iran on Monday evening:
With Portugal leading 1-0, Cristiano Ronaldo was barged in the box by Iran's Saeid Ezatolahi. Play continued, but on-field referee Enrique Caceres reversed his decision at the next break in play and awarded a penalty. Unfortunately Ronaldo missed the penalty!
In the middle of the second half, Ronaldo tried to get around Morteze Pouraliganji. He swung a right arm at the defender, who was hit in the mouth. Ref Caceres reviewed the footage and decided that Ronaldo only deserved a yellow card.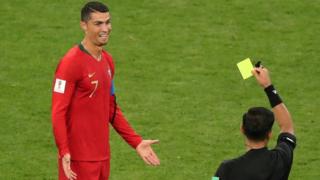 Reuters
At the end of the match in injury time, Iran's Sardar Azmoun jumped and headed the ball into Portugal's Cedric's arm. Iran appealed and, after watching a replay, and judging it to be a handball, the referee awarded them a penalty.
This was especially controversial in the final few minutes of the game, with many pundits and fans torn over the handball decision.
Iran very nearly scored again in the final moments but just missed, sending Portugal through to the knockout stages safely.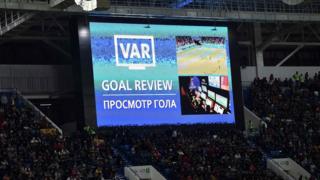 AFP
Spain 2-2 Morocco
With Spain trailing 2-1 against Morocco, they thought they had equalised with Iago Aspas' flicked goal but the offside flag was raised immediately.
When the footage of the incident was replayed, referee Ravshan Irmatov decided Aspas was onside, and Spain went top of the group.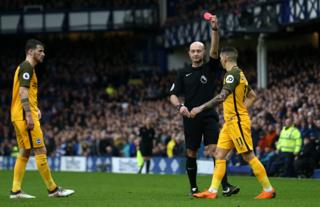 ALLSPORT/Getty Images
In football, VAR is another referee, but one that has access to TV replays from lots of different angles.
The video assisted referee will always take a look at goals, penalties and straight red cards, even if the on-field referee has not asked for a review. If a mistake has been made, the referee will be told.
The on-field referee can also refer to the VAR if he or she is not sure about something.
So, it helps with four potentially match-changing situations:
Goals

Penalty/no penalty decisions

Straight red cards

Cases of mistaken identity by the referee
It has been used around the world since March 2016, when football rule-makers agreed to a two-year trial period to find out if it will improve the sport. So far, the technology has been used in 20 competitions.
An official report from January 2018 said that VAR has been accurate in 98.9% of decisions so far during its two-year worldwide trial.
Watch this video to find out more about how it works.
What do people think of VAR?
Opinions about VAR are very mixed.
Lots of people think it should be used to stop mistakes being made, which could alter the outcome of entire tournaments.
But others disagree, saying that using VAR causes long delays in play. It can also disrupt the emotion and excitement of football matches - especially for fans watching the game in the stadium.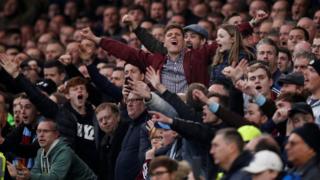 Reuters
They can't see or hear what's going on when a VAR decision is being discussed.
Many also feel that as VAR is not used to make all decisions, it isn't right that some wrong decisions would be overturned but others could still stand.
Many say that football has resisted adopting video technology more than other sports.
For example, Hawk-eye cameras are used in tennis to see if a ball was in or out, and a TMO - television match official - is used in rugby to help the referee on the pitch determine if a try should be allowed or not.
When Fifa announced that VAR would be used at the World Cup in Russia for the first time, it was a significant moment for football.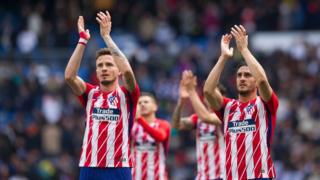 ALLSPORT/Getty Images
Fifa president Gianni Infantino explained: "We wanted to give the referees tools so they can make better decisions, and in the World Cup some very important decisions are made."
Spain's La Liga and France's Ligue 1 are also going to introduce it from next season.
And now the Premier League is expected to introduce the technology next season.
It's also been trialled in the FA Cup and Carabao Cup this season.
Uefa has also already said that it will not be used in the 2018-19 Champions League, after the head of Uefa Aleksander Ceferin said he sees "a lot of confusion".
Whether or not using VAR will become standard practice in football around the world at some point remains to be seen. For now, the debate rages on!