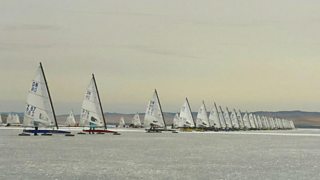 The yachts racing on an icy lake
A yacht race on ice has taken place on a huge lake in Russia.
Competitors from the USA, Poland, Britain, Germany and Russia took part in the event on Lake Baikal.
The yachts are able to slide on the ice with the help of attached blades.
They can reach speeds of more than 100 kilometres per hour in 20-knot winds.
Take a look.