Nobel Peace Prize winner Malala Yousafzai has returned to her home town in Pakistan for the first time since she was shot there in 2012.
Malala, who now lives in the UK, was attacked on a school bus by the Taliban, for campaigning for better education for girls.
The Taliban are an extremist group with strong views about Islam and how the religion should govern people's lives.
A helicopter carrying the 20-year-old landed not far from her family home in Mingora, Swat Valley, on Saturday under tight security.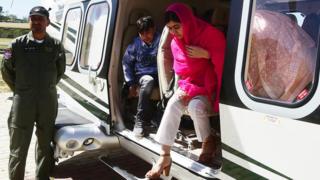 AFP
She was then seen arriving at an all-boys school just outside of the town where she is due to speak later, AFP news agency report.
On Thursday, it was announced that Malala had returned to Pakistan for the first time since she was attacked.
Her trip is expected to last four days.
Malala says she plans to return to Pakistan permanently once she has completed her studies at Oxford University.