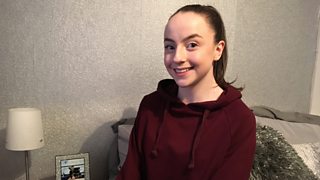 Team Scotland's Ellie: 'I can't believe I'm going!'
We have been to meet Ellie Russell, a 15-year-old gymnast from Scotland, who has had quite a fortnight, to say the least!
Despite qualifying for this year's Commonwealth Games, she was not named on the squad so did not think that she would be heading to Australia.
However, just two weeks ago, another member of the team had to pull out, which meant that Ellie was added to the squad at the very last minute.
"Just under two weeks ago, my mum received a phone call from my coach saying a space had come up and that I would be going. I was just so excited - I couldn't believe it!" she said.
We went to catch up with Ellie to see how she was feeling ahead of her very first Commonwealth Games.
Click here to meet some other athletes from England, Wales, Scotland and Northern Ireland.