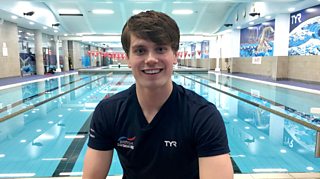 Team England's Tom: 'I wanna get the gold!'
The Commonwealth Games are drawing closer and we've been meeting some of the UK's hopefuls.
Northern Ireland, Wales, Scotland and England will all be competing for medals in Australia.
Team England's Tom Hamer is a para-swimmer.
He first went to the Commonwealth Games when he was 15 and will be competing at them again in just a few days' time - and this time, he's hoping for gold!
We caught up with Tom at one of his training sessions to see how he was feeling ahead of the Games.
Click here to meet some other athletes from England, Wales, Scotland and Northern Ireland.