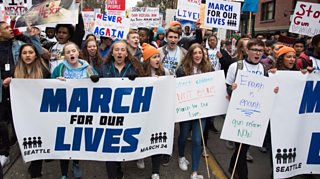 Children take part in the March For Our Lives
One of America's biggest protests in years has taken place in Washington DC - and it was all organised by kids.
Ariana Grande, Myley Cyrus and Jennifer Hudson joined around half a million protesters on the streets of the capital calling for tighter gun control laws.
There were similar marches across the US - and smaller numbers of people gathered in cities across the world - including in the UK.
It's after a school shooting in Florida last month.