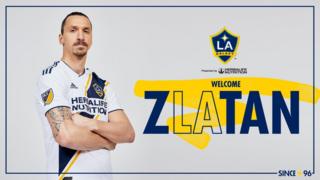 LA Galaxy
Legendary striker Zlatan Ibrahimovic has blown the whistle on his time in the Premier League.
He's left Manchester United and is going to America to play soccer for Los Angeles team LA Galaxy, in the MLS - the main football league in the USA.
LA Galaxy confirmed his signing on Friday afternoon There is also a picture of Ibrahimovic in an LA Galaxy kit in the paper.
Zlatan got injured towards the end of last season and hasn't featured much for the Red Devils this season - only making seven appearances and scoring one goal.
As well as his amazing goal-scoring skills he's also famous for making funny boasts about how great he is.
And true to form, he's had a message for the Los Angeles, where LA Galaxy play.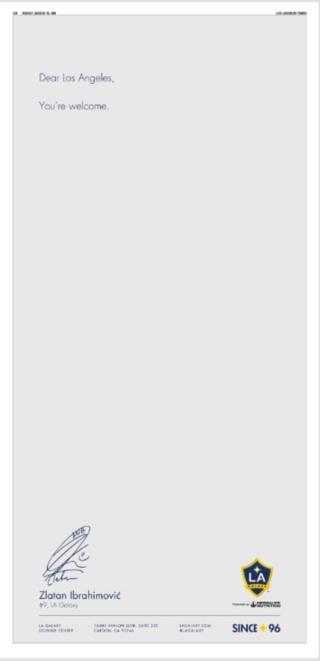 LA Times/LA Galaxy
He took a full-page advert in the main newspaper there, the LA Times, to say "You're welcome", because he thinks they must be thanking him for joining their club!
That's all it says, just a big white page, with the words, his signature and the club crest of LA Galaxy.
Classic Zlatan!