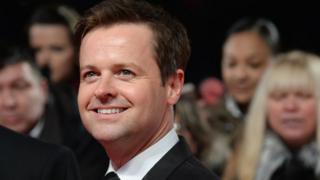 getty
For the first time ever, Declan Donnelly will host a show without Ant McPartlin.
While this week's Saturday Night Takeaway has been cancelled, the show will go on in future weeks.
The following two episodes, including the big Florida extravaganza, will now be presented solo by Dec.
It's because Ant has stepped down after he was involved in a car crash in London and was arrested on suspicion of drinking alcohol and then driving.
On social media, Dec said he didn't want to let the viewers down or the people who'd got places on the plane to Florida.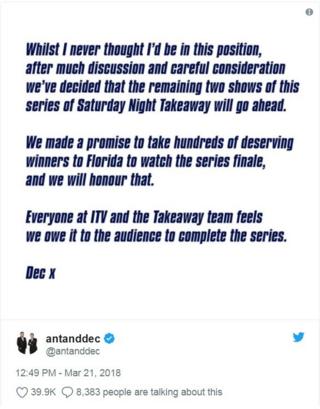 Declan Donnelly/Twitter
The people who look after Ant say he's taking time off "for the forseeable future" and will get treatment.
It's also being reported that although Dec is finishing off Takeaway, he won't present Britain's Got Talent without Ant, although the audition sections of the programme have already been recorded with both of them.