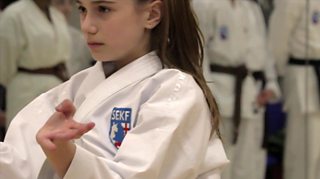 The golden karate girl with Olympic dreams
An 11-year-old is hoping more girls will take up karate after she won gold at an international competition.
Carla Rudkin-Guillen, who trains in Hampshire, won the under-12s kata section of the Berlin International Championships.
Kata is a type of karate training exercise in which a series of movements are made in particular pattern.
Carla has big dreams of one day becoming a world champion and taking part in the Olympics.
Watch this video to see her in action.