World famous scientist Stephen Hawking has died at the age of 76.
He died peacefully at his home in Cambridge very early on Wednesday morning, his family said.
The British scientist was known for his work in physics, and he wrote several best-selling science books.
At the age of 22 Professor Hawking was given only a few years to live, after being diagnosed with a rare form of motor neurone disease.
The condition makes the muscles in your body stop working over time and he quickly lost the use of his legs, arms and eventually his voice.
A special computer was built that speaks the words he wants to say.
Despite his illness, he continued to write books, make speeches and work as a scientist at the University of Cambridge.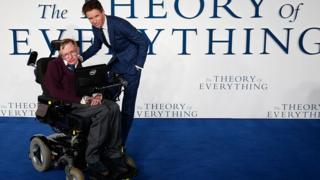 Getty Images
Professor Hawking became so famous that he made guest appearances in various TV programmes like The Simpsons, and The Big Bang Theory.
He was also played by actors in both TV and film - most recently by Oscar winner Eddie Redmayne in The Theory of Everything.
This film told the story of Professor Hawking's life.
Although a lot of his work was very serious, he sometimes used his amazing brain to help with more showbiz matters.
In 2015 he was asked whether, in a parallel universe, Zayn Malik might still be in One Direction.
He answered: "It would not be beyond the realms of possibility that somewhere outside of our own universe lies another different universe."
"And in that universe, Zayn is still in One Direction."
What were his biggest scientific discoveries?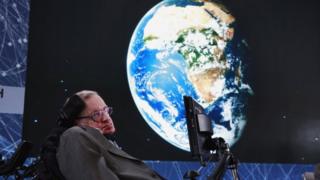 Reuters
His books tackle questions about the universe and our existence.
His most famous book 'A Brief History of Time', was designed to be read by ordinary people and not just scientists. It was an instant success and spent years at the top of best sellers lists.
He also made an important discovery about black holes that was so significant it was named after him, becoming known as 'Hawking radiation'.
'I was superman for those few minutes'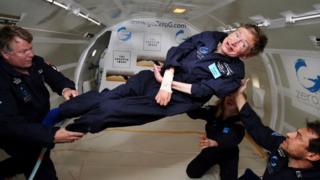 AFP
Professor Hawking loved space, and for his 65th birthday in 2007 he got the chance to experience micro-gravity on a special flight.
This meant he experienced weightlessness, floating like astronauts and objects do when they're in space.
Space Agency Nasa shared a video of Professor Hawking talking about this experience, where he says he felt "true freedom", and that "his smile was the biggest [his friends] had ever seen."
He said: "I was superman for those few minutes."
Tributes have been paid to Stephen Hawking's genius and his sense of humour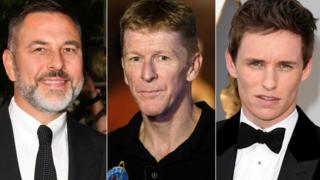 Getty Images
David Walliams said:
"Goodbye Stephen Hawking. Thanks for being - amongst everything else - a great laugh."
Astronaut Time Peake also paid tribute, saying:
"He inspired generations to look beyond our own blue planet and expand our understanding of the universe. His personality and genius will be sorely missed."
And actor Eddie Redmayne, who played Professor Hawking in a film, said:
"We have lost a truly beautiful mind, an astonishing scientist and the funniest man I have ever had the pleasure to meet."
'We will miss him forever'
Stephen has three children and three grandchildren. His daughter Lucy went to the 2015 BAFTAs with him.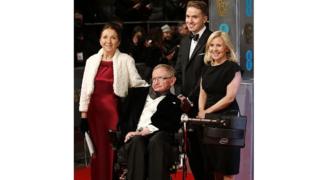 Getty Images
In a statement his children, Lucy, Robert and Tim praised his "courage and persistence" and said his "brilliance and humour" inspired people across the world.
"He once said, 'It would not be much of a universe if it wasn't home to the people you love.' We will miss him forever.".