Sky Sports football commentator Jamie Carragher has said "sorry" after he was filmed spitting at a teenage girl and her dad.
It's after a video appeared in the newspaper the Daily Mirror, showing the former Liverpool defender spitting towards them from his car.
After the news came out, Carragher was suspended from his job at Sky Sports which means he won't be presenting for a while.
Some people have said he should lose his job with Sky Sports but others, including the family involved, said they don't want that to happen. The police are not investigating as no official complaint has been made.
What happens in the video?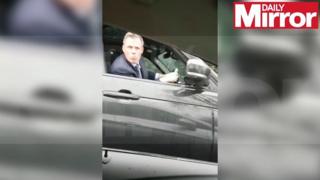 Daily Mirror
In the video, Carragher exchanges waves with the girl's dad.
Carragher then winds down his window while the girl's dad winds down his passenger-side window.
The dad can then be heard shouting: "Unlucky Jamie lad. Two, one" probably referring to Manchester United beating Liverpool in their recent match.
Carragher reacts by leaning out of his window and spitting towards the car, hitting a teenage girl, who is sitting in the front passenger seat.
He apologised on Sunday, and said he was "goaded three/four times while being filmed" but there was "no excuse".
Speaking to the BBC he said "It looks awful and I accept that. It's not something I've done before and not something I'll do again."
"It's a stain on my character and I have to accept that... There's not a person in the world who can condone spitting no matter what's gone on."
Carragher also says he has apologised over the phone to the family involved.
What have other people said?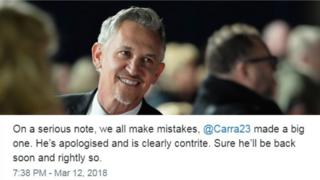 Getty Images/Twitter
Match of the Day host Gary Lineker put a message on social media saying that Jamie Carragher had made a big mistake but has said he was sorry.
Tracey Crouch who is the government minister in charge of sport said that what Carragher did was disgusting and Sky Sports were right to suspend him.
"I think spitting is disgusting full stop... I know he's apologised, he's right to apologise, it was absolutely disgusting."
Carragher's fellow presenter at Sky, Gary Neville said "No excuses, he's made a big mistake. He's massively passionate about football and he's overstepped the mark and shouldn't have reacted." but said he shouldn't lose his job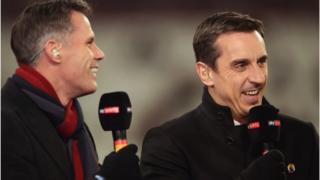 Getty Images
Who is Jamie Carragher?
Jamie Carragher is a former defender for Liverpool FC and for England.
A one-club man, he made 737 appearances for Liverpool and is their second-longest serving player.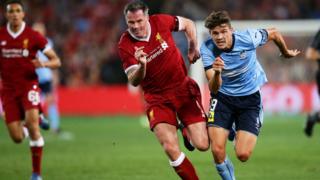 Getty Images
With Liverpool he won the Champions League, the FA Cup, the UEFA Cup and the League Cup.
He played 38 times for England.
Since he retired he has worked as a football commentator at Sky Sports.