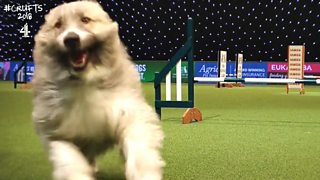 Watch this naughty doggo have the time of his LIFE
Over the last few days, dog-lovers have been enjoying canine companions of all shapes and sizes showing off what they can do in the famous dog competition Crufts.
But one dog called Kratu absolutely stole the show this year, when he refused to do anything that his handler wanted him to.
On the assault course, he missed jumps, ran around obstacles and even went through a tunnel the wrong way!
"He's a cross-breed of all sorts and he hasn't a clue what he's doing!" said the commentator.
Check out this footage of adorable Kratu's hilarious performance.