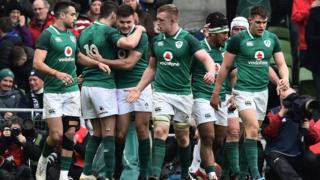 Getty Images
Ireland have been crowned Six Nations champions 2018, with one game still left to play in the competition.
It came after England's hopes of holding on to the title ended with their 22-16 loss to France on Saturday.
This is the third time Ireland have won the Six Nations in five years, after winning back-to-back titles in 2014 and 2015.
Meanwhile Ireland's women are currently third in the Six Nations table. They play Scotland on Sunday.
Ireland fans now have their fingers crossed that the boys in green can also beat England next Saturday, meaning they'll have won the Grand Slam.
A Grand Slam happens when a team has beaten all the other teams in the competition.
So do you have a message for the Ireland team?
Luke, Will, Ethan, Christopher, Benjamin, and Todd sent us this video.
Ireland deserved the win, with the young winger Jacob Stockdale who is in the form of his life. Well Done Ireland!
John, 13, Armagh
What a time to win. Not long to Patrick's day too! Even better to celebrate!!!
Adam
Thank you for all your messages. This chat page is now closed.