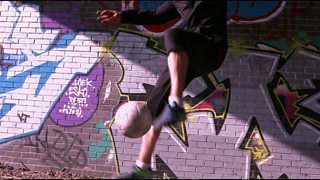 The 'keepy uppy' challenge on Everest
Football freestyler and king of "keepy-uppies" John Farnworth, has set himself a new challenge on the world's highest mountain.
He's travelled to Nepal in Asia, where he's been juggling a football with his feet, all the way up to base camp, where mountaineers start their climb to the top of Everest.
The biggest challenges, apart from keeping a ball under control up a mountain, include cold nights and feeling light-headed because of how high up he is.
John is doing the challenge in memory of his granddad who helped him get into football.
He's hoping he might even set a new world record at the same time.