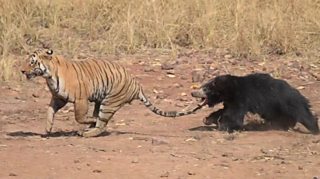 Mother bear chases off tiger!
This tiger will think twice before looking to hunt sloth bears!
He ran into a mother bear who was not going to let him near her cubs.
The fight between the jungle giants was captured on film by a tour guide in Maharashtra, India as the mother fought off the predator.
Standing at full height on hind legs, the mother bear charged the big cat until it slunk away to cool off in a nearby pond.
Indian sloth bears have distinctive long snouts and a white V pattern on their chest.
India is home to more than half of the world's tiger population with over 2,000 of the animals roaming its reserves, according to the last count in 2014.
Pictures from Akshay Kumar, Chief Naturalist at The Bamboo Forest Safari Lodge, Tadoba