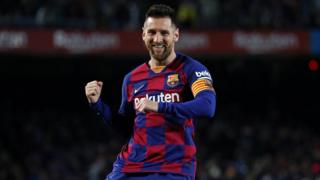 Getty Images
Barcelona superstar footballer Lionel Messi scored his 52nd hat-trick of his career on Saturday night.
He scored two sublime free-kicks and a penalty against Celta Vigo in La Liga, restoring the Spanish giants' lead at the top of the table.
Here are some more facts and figures from this record breaker's career.
Messi was named the highest paid athlete in the world in June 2019.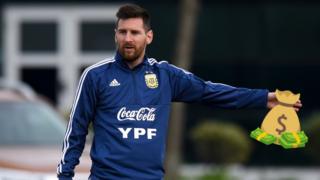 Getty Images
He earned $127m (£99.8m) in the previous 12 months, compared to Cristiano Ronaldo's $109m (£85.6m), according to Forbes magazine.
Another football star to make the list was Paris Saint-Germain's Neymar player Neymar. He came third with a total of $105m (£82.5m).
Serena Williams is the only woman in the top 100, earning $29.2m (£22.9m).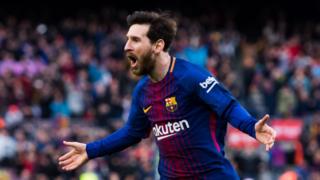 Getty Images
In May 2019, Lionel Messi scored his 600th goal for Barcelona in their 3-0 win over Liverpool in the Champions League.
The landmark goal was an amazing long-range free kick and was scored exactly 14 years to the day since his first ever Barcelona goal!
Considering he's only 32 years old, that's pretty good going - but that's not all he's achieved his impressive career.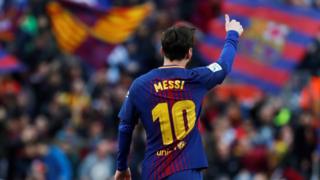 Getty Images
How many goals has Messi scored?
Lionel Messi is a goal machine - there's no better way to put it. He simply scores for fun and over the last few years he's broken quite a few records in the process.
He is the all-time top-scorer in the Spanish league La Liga, with 427 goals - at least 100 more than any other player!
In 2012, Messi broke a 40-year-old record held by the German legend Gerd Muller when he set a new record for the most goals in a calendar year - 91 and if you include friendly games that number rises to 96.
During the 2012-13 season, he managed to scored in 21 games in a row in La Liga, which is an unbelievable achievement. He only failed to score in four league games that season.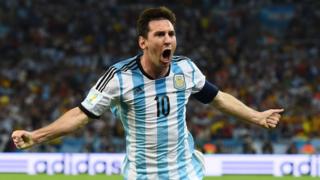 Getty Images
He's also Argentina's top scorer currently on 68 goals, which is nearly double the amount Argentina legend Diego Maradona scored.
In 2012, he became the first player to score five goals in a single Champions League game - that was against Bayer Leverkusen.
How many trophies has Messi won?
Lionel Messi has helped his club and country win a fair few trophies thanks to all of the goals he's scored during his career.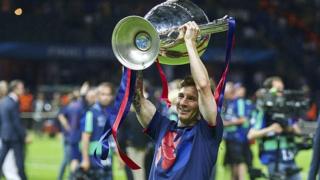 Getty Images
Since his first match for Barcelona in 2004, Lionel Messi has won a whopping 30 trophies with Barcelona.
That includes...
4

Champions League trophies

10

La Liga titles

6

Copa Del Reys

8

Spanish Super Cups

3

UEFA Super Cups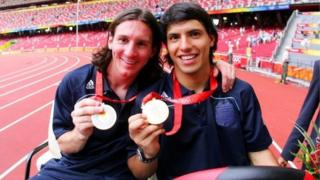 Getty Images
But that's just for Barcelona. He's also won an Olympic gold medal with Argentina at Beijing 2008 and he also won the under-20 World Cup.
Last but definitely not least, as well as all of his goals and trophies, he's also won plenty of personal accolades, including an astonishing five Ballon D'Ors when he was voted the world's best footballer.
What a player!