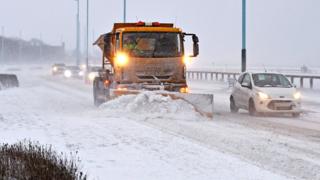 PA
A red weather warning has been issued for parts of the UK - the most serious kind of weather warning that the Met Office can announce.
On Wednesday, the alert was issued for parts of Scotland, which was the first time a red warning for snow had been issued in Scotland. This warning has now gone back to amber.
On Thursday morning, the Met Office - which forecasts the UK's weather - upgraded the amber warning in south-west England and south Wales to red as well.
In Lincolnshire, the RAF has been helping people who work in hospitals to get to work.
Up to 1,000 people in Scotland had to sleep in their cars overnight, after one of one of Scotland's busiest motorways - the M80 - was closed.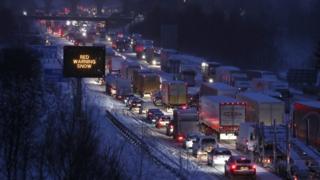 PA
Drivers couldn't move their in vehicles from the road between Glasgow and Stirling, after lorries skidded out of control and blocked the road in both directions.
All 11 Scottish Professional Football League matches which were due to take place on Wednesday evening were cancelled.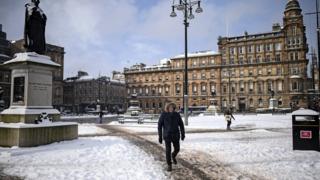 Getty Images
BBC Weather forecaster Ben Rich says because of the very cold winds, it could feel as cold as -11C in Birmingham and Cardiff.
He's also predicting parts of south-west England and Wales could experience freezing rain on Thursday night - something we don't normally see in the UK because it only happens when it is really, really, intensely cold.
But what exactly is a red weather warning and why is it so important?
What is a weather warning?
The Met Office has different types of weather warnings to make sure that people stay safe when severe weather - such as heavy rain, snow, wind, fog and ice - hits the UK.
The warnings have different colours depending on how severe - and potentially dangerous - the weather is. These are yellow, amber and red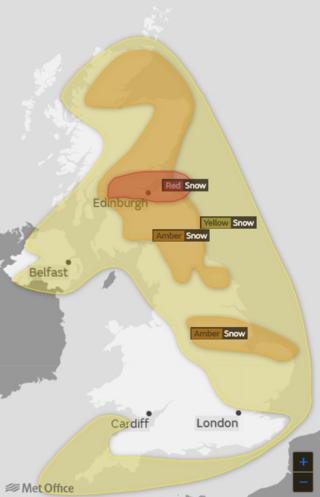 Met Office
What is a red weather warning?
A red weather warning is the most serious kind of weather warning that the Met Office can issue.
It means that it is likely that the weather will cause damage - for example, to buildings and roads.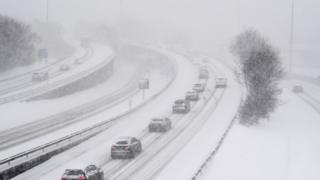 Getty Images
It is expected there will be problems with travelling - so buses, trains and flights may be delayed or cancelled altogether - and it could affect power cables, which may mean homes in the area could have power cuts.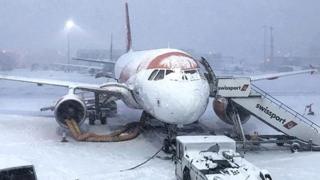 Instagram/@Scottfilms via Reuters
It also means that there could be a risk to people's lives if they are not careful.
The Met Office says that when it issues a red weather warning, people must stay away from areas which could be potentially dangerous and they should follow the advice of the emergency services and local authorities.
What are the other types of warning?
An amber warning is the next level down from a red warning, so the situation is not quite as severe. Currently, amber warnings are in place in other parts of Scotland, northern and eastern England, and the East Midlands.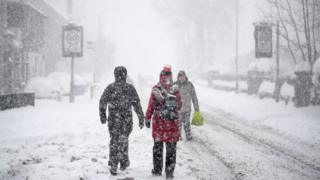 Getty Images
They mean that it is quite likely that bad weather will affect people, so they should be prepared to change their plans to make sure that everybody stays safe from the impact of the weather.
A yellow warning is the one down from amber, so is the least severe warning of the three.
"A yellow warning means severe weather is possible over the next few days and could affect you. It means keep an eye on the latest forecast and be aware that the weather may change or worsen, leading to disruption of your plans in the next few days."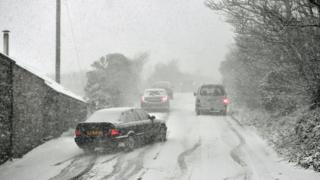 PA
The weather has caused more than 1,600 schools across the UK to close, meaning many of you aren't going to school as you would normally be doing.
It is expected that this will be the coldest winter week that the UK has experienced in five years.