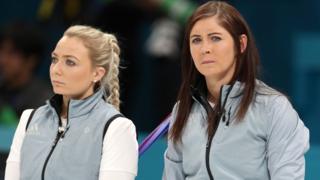 PA
Great Britain's women curlers have lost 10-5 to Sweden in their Winter Olympic semi-final in Pyeongchang, South Korea.
They will now play for a bronze medal on Saturday.
Eve Muirhead's team will face the losers of the other semi-final, Japan.
"We still have a medal to play for, so we'll give it our all," Muirhead told the BBC.
Victory in the play-off would mean Team GB would record their best medal haul ever, beating the four won at Sochi 2014 and Chamonix 1924.