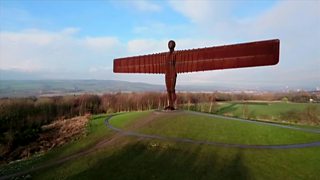 Angel of the North: 20 years, 20 facts
The Angel of the North is 20 years old.
If you've never heard of it, it's a massive sculpture in the North East of England.
So how do you celebrate a sculpture's birthday?!
Well lots of events and exhibitions are planned for the rest of the year.
People have also been sharing their memories of it online.
1. The Angel was designed by Antony Gormley OBE. He's a sculptor who's known all over the world for his pieces.
2. He used a plaster cast of his own body as the basis for it.
3. It was built in 1998 on the site of a former coal mine in Gateshead.
4. The A1 motorway is right next to it so it's seen by one person every second - that's 90,000 people every day or 33 million every year.
5. It's ENORMOUS. The body is 20 metres which is as long as four double decker buses.
6. The wings stretch out for 54 metres. That's wider than a Boeing 757 jet.
7. If you turned the Angel of the North on its side it would still be taller than the Statue of Liberty in New York!
8. It was made in Hartlepool so had to be driven very slowly to where it is now. Because of its size it was taken in 25 metre sections at just 10 miles per hour.
9. It's thought to be the largest angel sculpture in the world.
10. The sculpture weighs 200 tonnes which is the same as around 50 elephants. Imagine 50 elephants stacked on top of each other!
11. It's made from steel with a small amount of copper. There's enough metal in it to make four tanks!
12. Massive concrete piles help pin it into the ground so it stays in place. They weigh twice as much as the sculputre - 500 tonnes!
13. No matter what the weather the Angel stands proud. It can withstand winds of more than 100 miles per hour.
14. It's even got a flower named after it. There is a unique species of daffodil named the Angel of the North because of its rusty orange colour and height.
15. The total cost of the sculpture was £800,000.
16. It should last more than 100 years so if you've never seen it you've still got plenty of time.
17. It's won a number of awards, including being voted one of the 'Wonders of Britain' in 2002 along with Big Ben, Stonehenge and Windsor Castle.
18. The Angel might never have been built. A lot of people weren't sure it was a good idea. They thought it might distract drivers!
19. After it had been up for a few months, a group of Newcastle United fans decided it was missing something. They used catapults, rubber balls and a fishing line to dress it in a massive copy of Alan Shearer's footie shirt! It was on for less than half an hour before the police arrived. Oops.
20. The Angel of the North has become iconic and is one of the most viewed art pieces in the world. It's been used for all sorts of photo shoots and even marriage proposals!