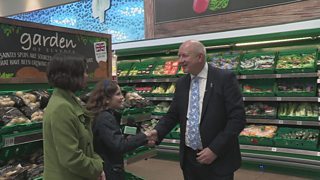 The girls grilling supermarkets about plastic
Supermarkets are full of plastic, with carrier bags, drinks bottles and food wrappers. It's often used to help keep food fresh but once it gets to people's homes, a lot of it is thrown away.
Now, lots of big supermarkets are promising they'll do more to help cut the amount of plastic we use and chuck out.
Some are trying to use less of it in food packaging, or looking at other options like paper.
Sisters Amy and Ella have started their own campaign, encouraging people and businesses to use less plastic.
They've been to grill one food store boss to see if they're doing enough...
With pictures from Blue Planet II, BBC iPlayer.