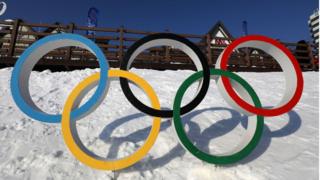 Getty Images
The Winter Olympics have kicked off in South Korea.
Thousands of athletes from all over the world will be competing in more than 100 events, in 15 different sporting categories.
But how will we know who to support and what to look out for?
To help you out we're taking a look at a few megastars, some of the British squad and some unique athletes you can look out for when the Games start later this month!
Yuzuru Hanyu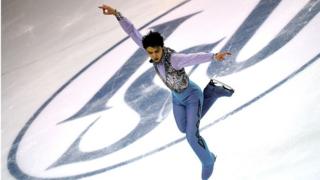 Getty Images
If you're a fan of Dancing on Ice or Ice Stars on CBBC, then this is a figure skater you need to watch out for!
Four years ago Yuzuru Hanyu became the first male Japanese figure skater in history to win gold at the Winter Olympic Games.
AND he was the youngest skater to do so since 1948, aged just 19!
Yuzuru also became the first figure skater to pass the 100-point mark, with a world record score of 101.45.
In total he's currently broken TWELVE different world records - and he's also a big fan of Winnie the Pooh.
Chloe Kim
American snowboarder Chloe Kim is only 17 years old but is one of the favourites to win gold in this year's halfpipe event.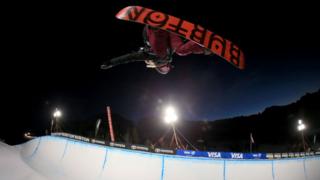 Getty Images
A halfpipe is a semi-circular ramp, where the snowboarder moves from side to side performing tricks in the air.
Chloe won the halfpipe and slopestyle gold medals in the 2016 Winter Youth Games.
This will be her first Olympic Games as she was too young to compete in 2014.
In 2016, she became the first woman to land a back-to-back 1080 spin (that's six full turns!) in a snowboarding competition!
She was born to South Korean parents, so she will have both American supporters and Korean relatives cheering her on!
Laura Dahlmeier
She is nicknamed the Queen of the Biathlon! This event combines cross-country skiing and shooting.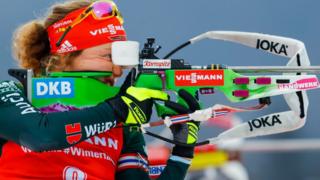 Getty Images
Laura Dahlmeier looks to be one of the stars of PyeongChang 2018, and last year she was ranked No.1 in the world.
The German will be competing in six different events - mixed relay, sprint, pursuit, women's relay, and individual and mass start races.
In 2017, she became the first athlete in history to win five gold medals at a single World Championship! The only title she didn't win was the sprint.
This year she is going for gold in all six events.
If she shows the same talent as she has in the past few years, she could be unbeatable!
Elise Christie
Elise Christie is a British skating superstar. The Scottish speedster is the current 500m world record holder.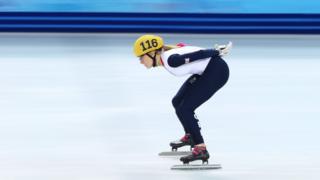 Getty Images
She is also the first British female skater to win gold at a World Championships!
Short-track speed skating is said to burn almost 900 calories per hour, depending on the intensity of your skating - That's around nine chocolate bars.
She was disqualified in the last Winter Olympics, but Elise is back now and ready to take on the challenge of PyeongChang 2018!
Great Britain has only ever won one Olympic medal in a short track speed skating event. Elise is hoping to change that this month.
Katie Ormerod
One of the most spectacular events at this Winter Olympics is the 'big air' and slopestyle snowboarding event.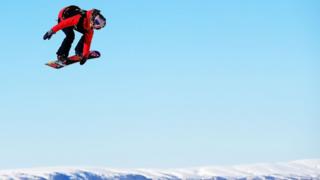 Getty Images
Big air is where athletes send themselves down one large ramp, and perform their best trick possible.
The 2018 PyeongChang Games will be the first time 'big air' is part of the Olympics.
The other snowboarding event, Slopestyle, uses rails and ramps which the contestants can perform tricks and jumps on.
Katie is a British snowboarding star who became the British Big Air and Slopestyle Champion in 2012.
She also used to be a county gymnast before she focused on big air and slopestyle snowboarding.
That probably helped her when she became the youngest girl to land a double backflip on a snowboard at the age of 15!
Unfortunately the day before the Winter Olympics started, Katie was ruled out after fracturing her heel in training.
It would have been her first Olympics and she was one of Team GB's biggest medal hopes after winning medals in Canada, Korea, Germany, Milan and even a gold in the big air World Cup event in Russia 2017.
Katie's said she's "gutted".
Andrew Musgrave and Andrew Young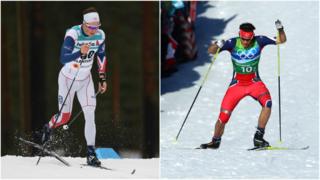 Getty Images
These Scottish skiers are aiming to put Great Britain on the cross-country podium next month.
Andrew Musgrave (on the left) came third in the 15km freestyle event at the World Cup in December and is in with a big chance to bag an Olympic medal this time round.
He will be competing in the 15km race and 30km skiathlon (the skiing version of a marathon).
The two met when they were 11 years old and have been friends since.
Andrew Young (on the right) is also a cross-country skier who will be competing in the upcoming Olympics.
They'll be competing together in the Team Sprint.
Nigerian women's bobsleigh team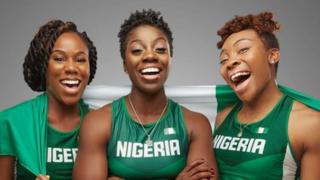 Bsfnigeria
These three smiling faces are athletes from Nigeria who decided to form the world's first all-African bobsleigh team in 2015.
They are now the first athletes from Africa to qualify for the Winter Olympics in bobsleighing!
Seun Adigun is the bobsled driver and Ngozi Onwumere and Akuoma Omeoga are in charge of the brakes.
They've all come from background in athletics, and Seun Adigun even competed for Nigeria in the 2012 London Olympic Games as a 100m hurdler!
Thousands will be watching this team chase their bobsleigh dreams.
It is not one to miss!
Skeleton: Akwasi Frimpong and Anthony Watson
The Nigerian bobsleigh team are not the only stars making history this month.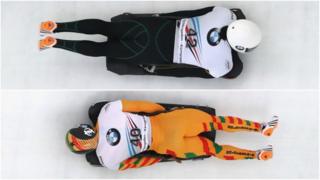 Getty Images
These two athletes will both be the first to compete in the skeleton for each of their countries.
Akwasi (on the bottom) will be Ghana's second ever winter Olympian and the only African man competing in the winter Olympics.
Anthony Watson (on the top) will be Jamaica's first ever Olympic skeleton slider!
Both men started off by trying bobsleighing, but decided to stick with skeleton instead.
The skeleton event involves one person sliding on their stomach on a small sled - Headfirst!
North and South Korea teaming up!
North Korea and South Korea are known for not really getting along with each other.

Reuters
However, despite this, North Korea made a deal with South Korea to allow their ice hockey teams to join up.
12 players from North Korea and 23 players from South Korea will team up to create a unified women's Ice Hockey team.
The South Korean coach will take charge, but the rule is that at least three players from North Korea must be selected.
North Korea only has 22 athletes in total. They will also be represented in alpine skiing, figure skating, short track speed skating and cross country skiing.
Last of all how could we forget the official mascots - Soohorang and Bandabi!!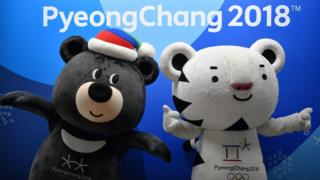 Dan Mullan
Soohorang is a white tiger which is known as South Korea's guardian animal - it symbolises protection and it's job is to keep the Games, the athletes and the spectators safe.
Bandabi is a black bear which represents strong will power and courage.
Good luck guys, and have fun!